Strict Standards
: Non-static method fileio::read_file() should not be called statically in
/www/htdocs/sgraman/blog/scripts/sb_fileio.php
on line
13
Strict Standards
: Non-static method arrays::explode_key() should not be called statically in
/www/htdocs/sgraman/blog/scripts/sb_entry.php
on line
254
Strict Standards
: Non-static method fileio::read_file() should not be called statically in
/www/htdocs/sgraman/blog/scripts/sb_fileio.php
on line
13
Strict Standards
: Non-static method fileio::read_file() should not be called statically in
/www/htdocs/sgraman/blog/scripts/sb_fileio.php
on line
13
Strict Standards
: Non-static method fileio::read_file() should not be called statically in
/www/htdocs/sgraman/blog/scripts/sb_fileio.php
on line
13
Strict Standards
: Non-static method fileio::file_listing() should not be called statically in
/www/htdocs/sgraman/blog/scripts/sb_fileio.php
on line
29
Strict Standards
: Non-static method fileio::file_listing() should not be called statically in
/www/htdocs/sgraman/blog/scripts/sb_fileio.php
on line
29
Strict Standards
: Non-static method fileio::read_file() should not be called statically in
/www/htdocs/sgraman/blog/scripts/sb_fileio.php
on line
13
Strict Standards
: Non-static method fileio::write_file() should not be called statically in
/www/htdocs/sgraman/blog/scripts/sb_fileio.php
on line
17
Strict Standards
: Non-static method fileio::make_dir() should not be called statically in
/www/htdocs/sgraman/blog/scripts/classes/fileio.php
on line
70

I år får enkronan en ny baksida, allt för att markera att det är 200 år sedan Sverige och Finland skildes åt. Den nya frånsidan föreställer havet som förbinder Sverige och Finland, kungaporträttet återfinns som vanligt på åtsidan. Jubileet firas trots att händelsen är ett av de mest förödmjukande ögonblicken i svenska statens historia. Förlusten i kriget mot Ryssland innebar att det dåvarande svenska riket förlorade en fjärdedel av sin befolkning och en tredjedel av sitt territorium. Med det är också ett jubileeum att Sverige inte har varit i krig nu på 200 år, kriget mot Ryssland var det senaste som Sverige utkämpat.
Runt motivet finns en strof ur Studentbesöket i Finland från 1857 av Johan Ludvig Runeberg, här återgivet i sitt sammanhang.
Ty redan i den tiden, när vi lyssnade till sagorna, hörde vi mer än
en gång förtäljas den underbara sagan om ett land på
andra sidan hafvet, dit den borde begifva sig, hvilken
ville finna en vänskap, som under seklernas lopp aldrig
lärt sig att glömma, och en trohet, som under
pröfningarnas skiften aldrig lärt sig att svika.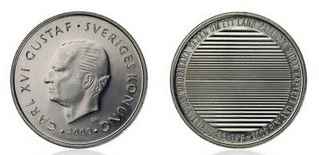 ---
Add Comment
Fill out the form below to add your own comments.
Strict Standards
: Non-static method fileio::read_file() should not be called statically in
/www/htdocs/sgraman/blog/scripts/sb_fileio.php
on line
13
---