Strict Standards
: Non-static method fileio::read_file() should not be called statically in
/www/htdocs/sgraman/blog/scripts/sb_fileio.php
on line
13
Strict Standards
: Non-static method fileio::read_file() should not be called statically in
/www/htdocs/sgraman/blog/scripts/sb_fileio.php
on line
13
Strict Standards
: Non-static method arrays::explode_key() should not be called statically in
/www/htdocs/sgraman/blog/scripts/sb_entry.php
on line
254
Strict Standards
: Non-static method fileio::read_file() should not be called statically in
/www/htdocs/sgraman/blog/scripts/sb_fileio.php
on line
13
Strict Standards
: Non-static method fileio::read_file() should not be called statically in
/www/htdocs/sgraman/blog/scripts/sb_fileio.php
on line
13
Strict Standards
: Non-static method fileio::read_file() should not be called statically in
/www/htdocs/sgraman/blog/scripts/sb_fileio.php
on line
13
Strict Standards
: Non-static method fileio::read_file() should not be called statically in
/www/htdocs/sgraman/blog/scripts/sb_fileio.php
on line
13
Strict Standards
: Non-static method fileio::read_file() should not be called statically in
/www/htdocs/sgraman/blog/scripts/sb_fileio.php
on line
13
Strict Standards
: Non-static method fileio::read_file() should not be called statically in
/www/htdocs/sgraman/blog/scripts/sb_fileio.php
on line
13
Strict Standards
: Non-static method fileio::read_file() should not be called statically in
/www/htdocs/sgraman/blog/scripts/sb_fileio.php
on line
13
Strict Standards
: Non-static method fileio::read_file() should not be called statically in
/www/htdocs/sgraman/blog/scripts/sb_fileio.php
on line
13
Strict Standards
: Non-static method fileio::strip_extension() should not be called statically in
/www/htdocs/sgraman/blog/scripts/sb_fileio.php
on line
41
Strict Standards
: Non-static method fileio::strip_extension() should not be called statically in
/www/htdocs/sgraman/blog/scripts/sb_fileio.php
on line
41
Strict Standards
: Non-static method fileio::strip_extension() should not be called statically in
/www/htdocs/sgraman/blog/scripts/sb_fileio.php
on line
41
Strict Standards
: Non-static method fileio::read_file() should not be called statically in
/www/htdocs/sgraman/blog/scripts/sb_fileio.php
on line
13
Strict Standards
: Non-static method fileio::file_listing() should not be called statically in
/www/htdocs/sgraman/blog/scripts/sb_fileio.php
on line
29
Strict Standards
: Non-static method fileio::file_listing() should not be called statically in
/www/htdocs/sgraman/blog/scripts/sb_fileio.php
on line
29
Strict Standards
: Non-static method fileio::file_listing() should not be called statically in
/www/htdocs/sgraman/blog/scripts/sb_fileio.php
on line
29
Strict Standards
: Non-static method fileio::read_file() should not be called statically in
/www/htdocs/sgraman/blog/scripts/sb_fileio.php
on line
13
Strict Standards
: Non-static method fileio::read_file() should not be called statically in
/www/htdocs/sgraman/blog/scripts/sb_fileio.php
on line
13
Strict Standards
: Non-static method fileio::strip_extension() should not be called statically in
/www/htdocs/sgraman/blog/scripts/sb_fileio.php
on line
41
Strict Standards
: Non-static method fileio::strip_extension() should not be called statically in
/www/htdocs/sgraman/blog/scripts/sb_fileio.php
on line
41
Strict Standards
: Non-static method fileio::strip_extension() should not be called statically in
/www/htdocs/sgraman/blog/scripts/sb_fileio.php
on line
41
Strict Standards
: Non-static method fileio::strip_extension() should not be called statically in
/www/htdocs/sgraman/blog/scripts/sb_fileio.php
on line
41
Strict Standards
: Non-static method fileio::strip_extension() should not be called statically in
/www/htdocs/sgraman/blog/scripts/sb_fileio.php
on line
41
Strict Standards
: Non-static method fileio::strip_extension() should not be called statically in
/www/htdocs/sgraman/blog/scripts/sb_fileio.php
on line
41
Strict Standards
: Non-static method fileio::strip_extension() should not be called statically in
/www/htdocs/sgraman/blog/scripts/sb_fileio.php
on line
41
Strict Standards
: Non-static method fileio::strip_extension() should not be called statically in
/www/htdocs/sgraman/blog/scripts/sb_fileio.php
on line
41
Strict Standards
: Non-static method fileio::strip_extension() should not be called statically in
/www/htdocs/sgraman/blog/scripts/sb_fileio.php
on line
41
Strict Standards
: Non-static method fileio::strip_extension() should not be called statically in
/www/htdocs/sgraman/blog/scripts/sb_fileio.php
on line
41
Strict Standards
: Non-static method fileio::strip_extension() should not be called statically in
/www/htdocs/sgraman/blog/scripts/sb_fileio.php
on line
41
Strict Standards
: Non-static method fileio::strip_extension() should not be called statically in
/www/htdocs/sgraman/blog/scripts/sb_fileio.php
on line
41
Strict Standards
: Non-static method fileio::strip_extension() should not be called statically in
/www/htdocs/sgraman/blog/scripts/sb_fileio.php
on line
41

I can't remember the amount of times that I've heard people complain about the fact that the seat of the toilet was up and "someone" didn't put it down. It's almost always men who do this since they can use the toilet standing up. Instead of getting riled at your partner for doing this continually, why don't you just get this fabulous transforming toilet?
This Ultimate Clean Toilet was designed by
Young Sang Eun
and it's intended for public bathrooms. I can't see why this can't be used in any home though. At first glance, this doesn't really look like a toilet. Initially, it looks like a fancy urinal, like something that you'd see at a fancy club. This toilet actually turns around. On one side, you have a urinal and at the flick of a button, it swishes around and becomes a sit-down toilet. It uses steam and UV lights to clean itself as well. Hopefully when this is available, both men and women will enjoy using it.
This Ultimate Clean Toilet is a great idea. First of all, it's pretty clean. Sure, it won't clean itself completely, but at least it will get rid of some grime. Second, the fact that you just push a button and it changes shapes just makes it really cool. Another one of those transforming pieces of furniture, thanks to modern technology.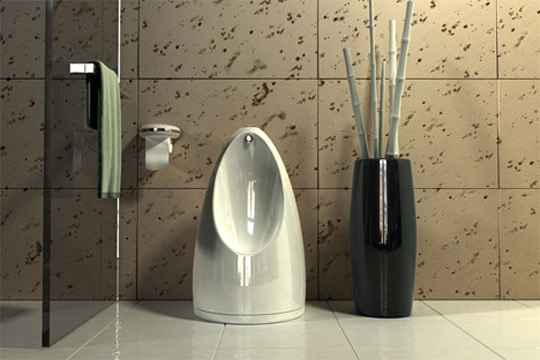 [ add comment ]
( 2580 views ) |
permalink
|





( 3 / 2625 )
---
<<First
<Back
| 10 | 11 | 12 | 13 | 14 | 15 | 16 | 17 | 18 | 19 |
Next>
Last>>