Strict Standards
: Non-static method fileio::read_file() should not be called statically in
/www/htdocs/sgraman/blog/scripts/sb_fileio.php
on line
13
Strict Standards
: Non-static method fileio::read_file() should not be called statically in
/www/htdocs/sgraman/blog/scripts/sb_fileio.php
on line
13
Strict Standards
: Non-static method arrays::explode_key() should not be called statically in
/www/htdocs/sgraman/blog/scripts/sb_entry.php
on line
254
Strict Standards
: Non-static method fileio::read_file() should not be called statically in
/www/htdocs/sgraman/blog/scripts/sb_fileio.php
on line
13
Strict Standards
: Non-static method fileio::read_file() should not be called statically in
/www/htdocs/sgraman/blog/scripts/sb_fileio.php
on line
13
Strict Standards
: Non-static method fileio::read_file() should not be called statically in
/www/htdocs/sgraman/blog/scripts/sb_fileio.php
on line
13
Strict Standards
: Non-static method fileio::read_file() should not be called statically in
/www/htdocs/sgraman/blog/scripts/sb_fileio.php
on line
13
Strict Standards
: Non-static method fileio::read_file() should not be called statically in
/www/htdocs/sgraman/blog/scripts/sb_fileio.php
on line
13
Strict Standards
: Non-static method fileio::read_file() should not be called statically in
/www/htdocs/sgraman/blog/scripts/sb_fileio.php
on line
13
Strict Standards
: Non-static method fileio::read_file() should not be called statically in
/www/htdocs/sgraman/blog/scripts/sb_fileio.php
on line
13
Strict Standards
: Non-static method fileio::read_file() should not be called statically in
/www/htdocs/sgraman/blog/scripts/sb_fileio.php
on line
13
Strict Standards
: Non-static method fileio::strip_extension() should not be called statically in
/www/htdocs/sgraman/blog/scripts/sb_fileio.php
on line
41
Strict Standards
: Non-static method fileio::strip_extension() should not be called statically in
/www/htdocs/sgraman/blog/scripts/sb_fileio.php
on line
41
Strict Standards
: Non-static method fileio::strip_extension() should not be called statically in
/www/htdocs/sgraman/blog/scripts/sb_fileio.php
on line
41
Strict Standards
: Non-static method fileio::read_file() should not be called statically in
/www/htdocs/sgraman/blog/scripts/sb_fileio.php
on line
13
Strict Standards
: Non-static method fileio::file_listing() should not be called statically in
/www/htdocs/sgraman/blog/scripts/sb_fileio.php
on line
29
Strict Standards
: Non-static method fileio::file_listing() should not be called statically in
/www/htdocs/sgraman/blog/scripts/sb_fileio.php
on line
29
Strict Standards
: Non-static method fileio::file_listing() should not be called statically in
/www/htdocs/sgraman/blog/scripts/sb_fileio.php
on line
29
Strict Standards
: Non-static method fileio::read_file() should not be called statically in
/www/htdocs/sgraman/blog/scripts/sb_fileio.php
on line
13
Strict Standards
: Non-static method fileio::read_file() should not be called statically in
/www/htdocs/sgraman/blog/scripts/sb_fileio.php
on line
13
Strict Standards
: Non-static method fileio::strip_extension() should not be called statically in
/www/htdocs/sgraman/blog/scripts/sb_fileio.php
on line
41
Strict Standards
: Non-static method fileio::strip_extension() should not be called statically in
/www/htdocs/sgraman/blog/scripts/sb_fileio.php
on line
41
Strict Standards
: Non-static method fileio::strip_extension() should not be called statically in
/www/htdocs/sgraman/blog/scripts/sb_fileio.php
on line
41
Strict Standards
: Non-static method fileio::strip_extension() should not be called statically in
/www/htdocs/sgraman/blog/scripts/sb_fileio.php
on line
41
Strict Standards
: Non-static method fileio::strip_extension() should not be called statically in
/www/htdocs/sgraman/blog/scripts/sb_fileio.php
on line
41
Strict Standards
: Non-static method fileio::strip_extension() should not be called statically in
/www/htdocs/sgraman/blog/scripts/sb_fileio.php
on line
41
Strict Standards
: Non-static method fileio::strip_extension() should not be called statically in
/www/htdocs/sgraman/blog/scripts/sb_fileio.php
on line
41
Strict Standards
: Non-static method fileio::strip_extension() should not be called statically in
/www/htdocs/sgraman/blog/scripts/sb_fileio.php
on line
41
Strict Standards
: Non-static method fileio::strip_extension() should not be called statically in
/www/htdocs/sgraman/blog/scripts/sb_fileio.php
on line
41
Strict Standards
: Non-static method fileio::strip_extension() should not be called statically in
/www/htdocs/sgraman/blog/scripts/sb_fileio.php
on line
41
Strict Standards
: Non-static method fileio::strip_extension() should not be called statically in
/www/htdocs/sgraman/blog/scripts/sb_fileio.php
on line
41
Strict Standards
: Non-static method fileio::strip_extension() should not be called statically in
/www/htdocs/sgraman/blog/scripts/sb_fileio.php
on line
41
Strict Standards
: Non-static method fileio::strip_extension() should not be called statically in
/www/htdocs/sgraman/blog/scripts/sb_fileio.php
on line
41

Peter Gabriel
slog igenom som sångare i det brittiska bandet Genesis som var delaktiga i att förnya rockmusiken under 70-talet. Efter att Gabriel lämnat bandet 1975 gick han vidare med en framgångsrik solokarriär. Albumen "So" och "Us" blev stora framgångar. Han skrev dessutom animerad musikvideohistoria med hitten "Sledgehammer" och "Big Time" 1986.
På senare tid har Peter Gabriel, som hunnit fylla 59 år, varit delaktig i att sprida så kallad världsmusik till väst, inte minst genom sitt skivbolag Real World. Han har även varit drivande i den heta samtidsfrågan om digital musikdistribution och vid sidan om musiken har han engagerat sig i mänskliga rättigheter och välgörenhetsprojekt.
José Antonio Abreu
från Venezuela, utbildad pianist och kompositör, får priset för sitt revolutionerande hjälpprojekt El Sistema som lär fattiga barn att spela klassisk musik. Det grundades 1975 och redan 1979 fick han National Music Prize i Venezuela för projektet. 1995 utsågs Abreu till Special Ambassador for the "Development of a Global Network of Youth and Children Orchestras and Choirs" av Unesco. Sedan flera år tillbaka har El Sistema lagt grunden för världsstjärnor på den klassiska scenen. Inom ramarna för projektet sker ett kontinuerligt utbyte med andra latinamerikanska länder, Spanien och USA.
Priserna och utmärkelserna har fullkomligt haglat över Abreu genom åren. Under 2008 fick han inte mindre än 8 olika priser, och tidigare i år tilldelades han Crystal Award of the World Economic Forum och TED-priset.

Peter Gabriel
made his breakthrou as singer in British rock band Genesis who where introducing new views onto rock music during the 70's. After leaving Genesis in 1975 Peter went on launching a successful solo career. Records like "So" and "Us" were big success stories as was also his revolutionary animated music videos, such as the hit single "Sledgehammer" and "Big Time" in 1986.
Peter, being 59 years old now, has in recent years spread the so called "World music" to western countries using his record company "Real World". He has also been heavily involved with digital music rights and copy protection issues. Aside from music Peter has a deep engagement in human rights and charity projects.
José Antonio Abreu
from Venezuela, educated pianist and composer, is rewarded for his revolutionary help project El Sistema which is teaching poor children classical music. Founded in 1975 El Sistema was an instant success and already in 1979 he was awarded with "National Music Prize" in Venezuela. In 1995 Abreu was elected Special Ambassador for the "Development of a Global Network of Youth and Children Orchestras and Choirs" by Unesco. Within the project there is a constant exchange with other Latin America countries, Spain and USA.
Abreau has recieved numerous prizes and awards for El Sistema over the years. Only in 2008 he got 8 awards and earlier this year he was awarded the Crystal Award of the World Economic Forum and the TED prize.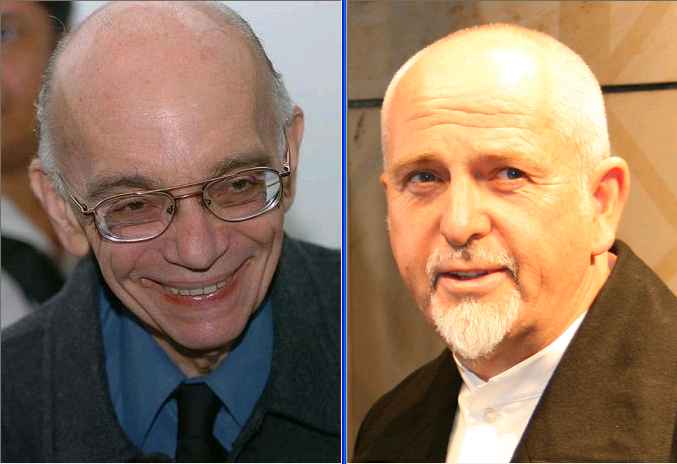 [ add comment ]
( 2371 views ) |
permalink
|





( 3 / 2560 )
---
<<First
<Back
| 10 | 11 | 12 | 13 | 14 | 15 | 16 | 17 | 18 | 19 |
Next>
Last>>