Strict Standards
: Non-static method fileio::read_file() should not be called statically in
/www/htdocs/sgraman/blog/scripts/sb_fileio.php
on line
13
Strict Standards
: Non-static method fileio::read_file() should not be called statically in
/www/htdocs/sgraman/blog/scripts/sb_fileio.php
on line
13
Strict Standards
: Non-static method arrays::explode_key() should not be called statically in
/www/htdocs/sgraman/blog/scripts/sb_entry.php
on line
254
Strict Standards
: Non-static method fileio::read_file() should not be called statically in
/www/htdocs/sgraman/blog/scripts/sb_fileio.php
on line
13
Strict Standards
: Non-static method fileio::read_file() should not be called statically in
/www/htdocs/sgraman/blog/scripts/sb_fileio.php
on line
13
Strict Standards
: Non-static method fileio::read_file() should not be called statically in
/www/htdocs/sgraman/blog/scripts/sb_fileio.php
on line
13
Strict Standards
: Non-static method fileio::read_file() should not be called statically in
/www/htdocs/sgraman/blog/scripts/sb_fileio.php
on line
13
Strict Standards
: Non-static method fileio::read_file() should not be called statically in
/www/htdocs/sgraman/blog/scripts/sb_fileio.php
on line
13
Strict Standards
: Non-static method fileio::read_file() should not be called statically in
/www/htdocs/sgraman/blog/scripts/sb_fileio.php
on line
13
Strict Standards
: Non-static method fileio::read_file() should not be called statically in
/www/htdocs/sgraman/blog/scripts/sb_fileio.php
on line
13
Strict Standards
: Non-static method fileio::read_file() should not be called statically in
/www/htdocs/sgraman/blog/scripts/sb_fileio.php
on line
13
Strict Standards
: Non-static method fileio::strip_extension() should not be called statically in
/www/htdocs/sgraman/blog/scripts/sb_fileio.php
on line
41
Strict Standards
: Non-static method fileio::strip_extension() should not be called statically in
/www/htdocs/sgraman/blog/scripts/sb_fileio.php
on line
41
Strict Standards
: Non-static method fileio::strip_extension() should not be called statically in
/www/htdocs/sgraman/blog/scripts/sb_fileio.php
on line
41
Strict Standards
: Non-static method fileio::read_file() should not be called statically in
/www/htdocs/sgraman/blog/scripts/sb_fileio.php
on line
13
Strict Standards
: Non-static method fileio::file_listing() should not be called statically in
/www/htdocs/sgraman/blog/scripts/sb_fileio.php
on line
29
Strict Standards
: Non-static method fileio::file_listing() should not be called statically in
/www/htdocs/sgraman/blog/scripts/sb_fileio.php
on line
29
Strict Standards
: Non-static method fileio::file_listing() should not be called statically in
/www/htdocs/sgraman/blog/scripts/sb_fileio.php
on line
29
Strict Standards
: Non-static method fileio::read_file() should not be called statically in
/www/htdocs/sgraman/blog/scripts/sb_fileio.php
on line
13
Strict Standards
: Non-static method fileio::read_file() should not be called statically in
/www/htdocs/sgraman/blog/scripts/sb_fileio.php
on line
13
Strict Standards
: Non-static method fileio::strip_extension() should not be called statically in
/www/htdocs/sgraman/blog/scripts/sb_fileio.php
on line
41
Strict Standards
: Non-static method fileio::strip_extension() should not be called statically in
/www/htdocs/sgraman/blog/scripts/sb_fileio.php
on line
41
Strict Standards
: Non-static method fileio::strip_extension() should not be called statically in
/www/htdocs/sgraman/blog/scripts/sb_fileio.php
on line
41
Strict Standards
: Non-static method fileio::strip_extension() should not be called statically in
/www/htdocs/sgraman/blog/scripts/sb_fileio.php
on line
41
Strict Standards
: Non-static method fileio::strip_extension() should not be called statically in
/www/htdocs/sgraman/blog/scripts/sb_fileio.php
on line
41
Strict Standards
: Non-static method fileio::strip_extension() should not be called statically in
/www/htdocs/sgraman/blog/scripts/sb_fileio.php
on line
41
Strict Standards
: Non-static method fileio::strip_extension() should not be called statically in
/www/htdocs/sgraman/blog/scripts/sb_fileio.php
on line
41
Strict Standards
: Non-static method fileio::strip_extension() should not be called statically in
/www/htdocs/sgraman/blog/scripts/sb_fileio.php
on line
41
Strict Standards
: Non-static method fileio::strip_extension() should not be called statically in
/www/htdocs/sgraman/blog/scripts/sb_fileio.php
on line
41
Strict Standards
: Non-static method fileio::strip_extension() should not be called statically in
/www/htdocs/sgraman/blog/scripts/sb_fileio.php
on line
41
Strict Standards
: Non-static method fileio::strip_extension() should not be called statically in
/www/htdocs/sgraman/blog/scripts/sb_fileio.php
on line
41
Strict Standards
: Non-static method fileio::strip_extension() should not be called statically in
/www/htdocs/sgraman/blog/scripts/sb_fileio.php
on line
41
Strict Standards
: Non-static method fileio::strip_extension() should not be called statically in
/www/htdocs/sgraman/blog/scripts/sb_fileio.php
on line
41

I must preface by saying that it's common practice for newspapers and Web sites to have pre-written obituaries for notable people ready on hand, so that when they do kick the bucket, they can fill in the when and where blanks and get the news on the wire. That said, the Bloomberg financial newswire accidentally publishing a mad-libs version of Apple CEO Steve Jobs' obituary a few days ago is the biggest oops I've seen in awhile.
The Bloomberg financial newswire decided to update its 17-page Steve Jobs obituary — and some intern must have inadvertently published it in the process. Jobs' battle with pancreatic cancer has continued to be a worry of Apple investors, but all reports say that there in no indication that Bloomberg recieved any bad news that would have made them decide to update the obituary.
The full text of the obituary, before it was promptly removed from Bloomberg's site, is on Gawker, see link. (Good to know when reading: "TK" means "to come" in magazines and newspapers.)
Bloomberg has "retracted" its obituary:
Aug. 27 (Bloomberg) — An incomplete story referencing Apple Inc. was inadvertently published by Bloomberg News at 4:27 p.m. New York time today. The item was never meant for publication and has been retracted.

Även DN hade en blänkare om detta, här:
http://www.dn.se/DNet/jsp/polopoly.jsp? ... p;a=822281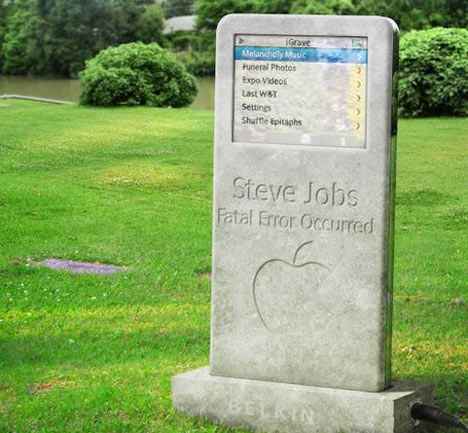 [ add comment ]
( 2121 views ) |
permalink
|
related link
|





( 2.9 / 2099 )
---
<<First
<Back
| 11 | 12 | 13 | 14 | 15 | 16 | 17 | 18 | 19 | 20 |
Next>
Last>>