Strict Standards
: Non-static method fileio::read_file() should not be called statically in
/www/htdocs/sgraman/blog/scripts/sb_fileio.php
on line
13
Strict Standards
: Non-static method fileio::read_file() should not be called statically in
/www/htdocs/sgraman/blog/scripts/sb_fileio.php
on line
13
Strict Standards
: Non-static method arrays::explode_key() should not be called statically in
/www/htdocs/sgraman/blog/scripts/sb_entry.php
on line
254
Strict Standards
: Non-static method fileio::read_file() should not be called statically in
/www/htdocs/sgraman/blog/scripts/sb_fileio.php
on line
13
Strict Standards
: Non-static method fileio::read_file() should not be called statically in
/www/htdocs/sgraman/blog/scripts/sb_fileio.php
on line
13
Strict Standards
: Non-static method fileio::read_file() should not be called statically in
/www/htdocs/sgraman/blog/scripts/sb_fileio.php
on line
13
Strict Standards
: Non-static method fileio::read_file() should not be called statically in
/www/htdocs/sgraman/blog/scripts/sb_fileio.php
on line
13
Strict Standards
: Non-static method fileio::read_file() should not be called statically in
/www/htdocs/sgraman/blog/scripts/sb_fileio.php
on line
13
Strict Standards
: Non-static method fileio::read_file() should not be called statically in
/www/htdocs/sgraman/blog/scripts/sb_fileio.php
on line
13
Strict Standards
: Non-static method fileio::read_file() should not be called statically in
/www/htdocs/sgraman/blog/scripts/sb_fileio.php
on line
13
Strict Standards
: Non-static method fileio::read_file() should not be called statically in
/www/htdocs/sgraman/blog/scripts/sb_fileio.php
on line
13
Strict Standards
: Non-static method fileio::strip_extension() should not be called statically in
/www/htdocs/sgraman/blog/scripts/sb_fileio.php
on line
41
Strict Standards
: Non-static method fileio::strip_extension() should not be called statically in
/www/htdocs/sgraman/blog/scripts/sb_fileio.php
on line
41
Strict Standards
: Non-static method fileio::strip_extension() should not be called statically in
/www/htdocs/sgraman/blog/scripts/sb_fileio.php
on line
41
Strict Standards
: Non-static method fileio::read_file() should not be called statically in
/www/htdocs/sgraman/blog/scripts/sb_fileio.php
on line
13
Strict Standards
: Non-static method fileio::file_listing() should not be called statically in
/www/htdocs/sgraman/blog/scripts/sb_fileio.php
on line
29
Strict Standards
: Non-static method fileio::file_listing() should not be called statically in
/www/htdocs/sgraman/blog/scripts/sb_fileio.php
on line
29
Strict Standards
: Non-static method fileio::file_listing() should not be called statically in
/www/htdocs/sgraman/blog/scripts/sb_fileio.php
on line
29
Strict Standards
: Non-static method fileio::read_file() should not be called statically in
/www/htdocs/sgraman/blog/scripts/sb_fileio.php
on line
13
Strict Standards
: Non-static method fileio::read_file() should not be called statically in
/www/htdocs/sgraman/blog/scripts/sb_fileio.php
on line
13
Strict Standards
: Non-static method fileio::read_file() should not be called statically in
/www/htdocs/sgraman/blog/scripts/sb_fileio.php
on line
13
Strict Standards
: Non-static method arrays::explode_key() should not be called statically in
/www/htdocs/sgraman/blog/scripts/sb_entry.php
on line
254
Strict Standards
: Non-static method fileio::read_file() should not be called statically in
/www/htdocs/sgraman/blog/scripts/sb_fileio.php
on line
13
Strict Standards
: Non-static method fileio::read_file() should not be called statically in
/www/htdocs/sgraman/blog/scripts/sb_fileio.php
on line
13
Strict Standards
: Non-static method fileio::read_file() should not be called statically in
/www/htdocs/sgraman/blog/scripts/sb_fileio.php
on line
13
Strict Standards
: Non-static method fileio::read_file() should not be called statically in
/www/htdocs/sgraman/blog/scripts/sb_fileio.php
on line
13
Strict Standards
: Non-static method fileio::read_file() should not be called statically in
/www/htdocs/sgraman/blog/scripts/sb_fileio.php
on line
13
Strict Standards
: Non-static method fileio::read_file() should not be called statically in
/www/htdocs/sgraman/blog/scripts/sb_fileio.php
on line
13
Strict Standards
: Non-static method fileio::read_file() should not be called statically in
/www/htdocs/sgraman/blog/scripts/sb_fileio.php
on line
13
Strict Standards
: Non-static method fileio::read_file() should not be called statically in
/www/htdocs/sgraman/blog/scripts/sb_fileio.php
on line
13
Strict Standards
: Non-static method fileio::strip_extension() should not be called statically in
/www/htdocs/sgraman/blog/scripts/sb_fileio.php
on line
41
Strict Standards
: Non-static method fileio::strip_extension() should not be called statically in
/www/htdocs/sgraman/blog/scripts/sb_fileio.php
on line
41
Strict Standards
: Non-static method fileio::strip_extension() should not be called statically in
/www/htdocs/sgraman/blog/scripts/sb_fileio.php
on line
41
Strict Standards
: Non-static method fileio::read_file() should not be called statically in
/www/htdocs/sgraman/blog/scripts/sb_fileio.php
on line
13
Strict Standards
: Non-static method fileio::file_listing() should not be called statically in
/www/htdocs/sgraman/blog/scripts/sb_fileio.php
on line
29
Strict Standards
: Non-static method fileio::file_listing() should not be called statically in
/www/htdocs/sgraman/blog/scripts/sb_fileio.php
on line
29
Strict Standards
: Non-static method fileio::file_listing() should not be called statically in
/www/htdocs/sgraman/blog/scripts/sb_fileio.php
on line
29
Strict Standards
: Non-static method fileio::read_file() should not be called statically in
/www/htdocs/sgraman/blog/scripts/sb_fileio.php
on line
13
Strict Standards
: Non-static method fileio::read_file() should not be called statically in
/www/htdocs/sgraman/blog/scripts/sb_fileio.php
on line
13
Strict Standards
: Non-static method fileio::read_file() should not be called statically in
/www/htdocs/sgraman/blog/scripts/sb_fileio.php
on line
13
Strict Standards
: Non-static method arrays::explode_key() should not be called statically in
/www/htdocs/sgraman/blog/scripts/sb_entry.php
on line
254
Strict Standards
: Non-static method fileio::read_file() should not be called statically in
/www/htdocs/sgraman/blog/scripts/sb_fileio.php
on line
13
Strict Standards
: Non-static method fileio::read_file() should not be called statically in
/www/htdocs/sgraman/blog/scripts/sb_fileio.php
on line
13
Strict Standards
: Non-static method fileio::read_file() should not be called statically in
/www/htdocs/sgraman/blog/scripts/sb_fileio.php
on line
13
Strict Standards
: Non-static method fileio::read_file() should not be called statically in
/www/htdocs/sgraman/blog/scripts/sb_fileio.php
on line
13
Strict Standards
: Non-static method fileio::read_file() should not be called statically in
/www/htdocs/sgraman/blog/scripts/sb_fileio.php
on line
13
Strict Standards
: Non-static method fileio::read_file() should not be called statically in
/www/htdocs/sgraman/blog/scripts/sb_fileio.php
on line
13
Strict Standards
: Non-static method fileio::read_file() should not be called statically in
/www/htdocs/sgraman/blog/scripts/sb_fileio.php
on line
13
Strict Standards
: Non-static method fileio::read_file() should not be called statically in
/www/htdocs/sgraman/blog/scripts/sb_fileio.php
on line
13
Strict Standards
: Non-static method fileio::strip_extension() should not be called statically in
/www/htdocs/sgraman/blog/scripts/sb_fileio.php
on line
41
Strict Standards
: Non-static method fileio::strip_extension() should not be called statically in
/www/htdocs/sgraman/blog/scripts/sb_fileio.php
on line
41
Strict Standards
: Non-static method fileio::strip_extension() should not be called statically in
/www/htdocs/sgraman/blog/scripts/sb_fileio.php
on line
41
Strict Standards
: Non-static method fileio::read_file() should not be called statically in
/www/htdocs/sgraman/blog/scripts/sb_fileio.php
on line
13
Strict Standards
: Non-static method fileio::file_listing() should not be called statically in
/www/htdocs/sgraman/blog/scripts/sb_fileio.php
on line
29
Strict Standards
: Non-static method fileio::file_listing() should not be called statically in
/www/htdocs/sgraman/blog/scripts/sb_fileio.php
on line
29
Strict Standards
: Non-static method fileio::file_listing() should not be called statically in
/www/htdocs/sgraman/blog/scripts/sb_fileio.php
on line
29
Strict Standards
: Non-static method fileio::read_file() should not be called statically in
/www/htdocs/sgraman/blog/scripts/sb_fileio.php
on line
13
Strict Standards
: Non-static method fileio::read_file() should not be called statically in
/www/htdocs/sgraman/blog/scripts/sb_fileio.php
on line
13
Strict Standards
: Non-static method fileio::read_file() should not be called statically in
/www/htdocs/sgraman/blog/scripts/sb_fileio.php
on line
13
Strict Standards
: Non-static method arrays::explode_key() should not be called statically in
/www/htdocs/sgraman/blog/scripts/sb_entry.php
on line
254
Strict Standards
: Non-static method fileio::read_file() should not be called statically in
/www/htdocs/sgraman/blog/scripts/sb_fileio.php
on line
13
Strict Standards
: Non-static method fileio::read_file() should not be called statically in
/www/htdocs/sgraman/blog/scripts/sb_fileio.php
on line
13
Strict Standards
: Non-static method fileio::read_file() should not be called statically in
/www/htdocs/sgraman/blog/scripts/sb_fileio.php
on line
13
Strict Standards
: Non-static method fileio::read_file() should not be called statically in
/www/htdocs/sgraman/blog/scripts/sb_fileio.php
on line
13
Strict Standards
: Non-static method fileio::read_file() should not be called statically in
/www/htdocs/sgraman/blog/scripts/sb_fileio.php
on line
13
Strict Standards
: Non-static method fileio::read_file() should not be called statically in
/www/htdocs/sgraman/blog/scripts/sb_fileio.php
on line
13
Strict Standards
: Non-static method fileio::read_file() should not be called statically in
/www/htdocs/sgraman/blog/scripts/sb_fileio.php
on line
13
Strict Standards
: Non-static method fileio::read_file() should not be called statically in
/www/htdocs/sgraman/blog/scripts/sb_fileio.php
on line
13
Strict Standards
: Non-static method fileio::strip_extension() should not be called statically in
/www/htdocs/sgraman/blog/scripts/sb_fileio.php
on line
41
Strict Standards
: Non-static method fileio::strip_extension() should not be called statically in
/www/htdocs/sgraman/blog/scripts/sb_fileio.php
on line
41
Strict Standards
: Non-static method fileio::strip_extension() should not be called statically in
/www/htdocs/sgraman/blog/scripts/sb_fileio.php
on line
41
Strict Standards
: Non-static method fileio::read_file() should not be called statically in
/www/htdocs/sgraman/blog/scripts/sb_fileio.php
on line
13
Strict Standards
: Non-static method fileio::file_listing() should not be called statically in
/www/htdocs/sgraman/blog/scripts/sb_fileio.php
on line
29
Strict Standards
: Non-static method fileio::file_listing() should not be called statically in
/www/htdocs/sgraman/blog/scripts/sb_fileio.php
on line
29
Strict Standards
: Non-static method fileio::file_listing() should not be called statically in
/www/htdocs/sgraman/blog/scripts/sb_fileio.php
on line
29
Strict Standards
: Non-static method fileio::read_file() should not be called statically in
/www/htdocs/sgraman/blog/scripts/sb_fileio.php
on line
13
Strict Standards
: Non-static method fileio::read_file() should not be called statically in
/www/htdocs/sgraman/blog/scripts/sb_fileio.php
on line
13
Strict Standards
: Non-static method fileio::read_file() should not be called statically in
/www/htdocs/sgraman/blog/scripts/sb_fileio.php
on line
13
Strict Standards
: Non-static method arrays::explode_key() should not be called statically in
/www/htdocs/sgraman/blog/scripts/sb_entry.php
on line
254
Strict Standards
: Non-static method fileio::read_file() should not be called statically in
/www/htdocs/sgraman/blog/scripts/sb_fileio.php
on line
13
Strict Standards
: Non-static method fileio::read_file() should not be called statically in
/www/htdocs/sgraman/blog/scripts/sb_fileio.php
on line
13
Strict Standards
: Non-static method fileio::read_file() should not be called statically in
/www/htdocs/sgraman/blog/scripts/sb_fileio.php
on line
13
Strict Standards
: Non-static method fileio::read_file() should not be called statically in
/www/htdocs/sgraman/blog/scripts/sb_fileio.php
on line
13
Strict Standards
: Non-static method fileio::read_file() should not be called statically in
/www/htdocs/sgraman/blog/scripts/sb_fileio.php
on line
13
Strict Standards
: Non-static method fileio::read_file() should not be called statically in
/www/htdocs/sgraman/blog/scripts/sb_fileio.php
on line
13
Strict Standards
: Non-static method fileio::read_file() should not be called statically in
/www/htdocs/sgraman/blog/scripts/sb_fileio.php
on line
13
Strict Standards
: Non-static method fileio::read_file() should not be called statically in
/www/htdocs/sgraman/blog/scripts/sb_fileio.php
on line
13
Strict Standards
: Non-static method fileio::strip_extension() should not be called statically in
/www/htdocs/sgraman/blog/scripts/sb_fileio.php
on line
41
Strict Standards
: Non-static method fileio::strip_extension() should not be called statically in
/www/htdocs/sgraman/blog/scripts/sb_fileio.php
on line
41
Strict Standards
: Non-static method fileio::strip_extension() should not be called statically in
/www/htdocs/sgraman/blog/scripts/sb_fileio.php
on line
41
Strict Standards
: Non-static method fileio::read_file() should not be called statically in
/www/htdocs/sgraman/blog/scripts/sb_fileio.php
on line
13
Strict Standards
: Non-static method fileio::file_listing() should not be called statically in
/www/htdocs/sgraman/blog/scripts/sb_fileio.php
on line
29
Strict Standards
: Non-static method fileio::file_listing() should not be called statically in
/www/htdocs/sgraman/blog/scripts/sb_fileio.php
on line
29
Strict Standards
: Non-static method fileio::file_listing() should not be called statically in
/www/htdocs/sgraman/blog/scripts/sb_fileio.php
on line
29
Strict Standards
: Non-static method fileio::read_file() should not be called statically in
/www/htdocs/sgraman/blog/scripts/sb_fileio.php
on line
13
Strict Standards
: Non-static method fileio::read_file() should not be called statically in
/www/htdocs/sgraman/blog/scripts/sb_fileio.php
on line
13
Strict Standards
: Non-static method fileio::read_file() should not be called statically in
/www/htdocs/sgraman/blog/scripts/sb_fileio.php
on line
13
Strict Standards
: Non-static method arrays::explode_key() should not be called statically in
/www/htdocs/sgraman/blog/scripts/sb_entry.php
on line
254
Strict Standards
: Non-static method fileio::read_file() should not be called statically in
/www/htdocs/sgraman/blog/scripts/sb_fileio.php
on line
13
Strict Standards
: Non-static method fileio::read_file() should not be called statically in
/www/htdocs/sgraman/blog/scripts/sb_fileio.php
on line
13
Strict Standards
: Non-static method fileio::read_file() should not be called statically in
/www/htdocs/sgraman/blog/scripts/sb_fileio.php
on line
13
Strict Standards
: Non-static method fileio::read_file() should not be called statically in
/www/htdocs/sgraman/blog/scripts/sb_fileio.php
on line
13
Strict Standards
: Non-static method fileio::read_file() should not be called statically in
/www/htdocs/sgraman/blog/scripts/sb_fileio.php
on line
13
Strict Standards
: Non-static method fileio::read_file() should not be called statically in
/www/htdocs/sgraman/blog/scripts/sb_fileio.php
on line
13
Strict Standards
: Non-static method fileio::read_file() should not be called statically in
/www/htdocs/sgraman/blog/scripts/sb_fileio.php
on line
13
Strict Standards
: Non-static method fileio::read_file() should not be called statically in
/www/htdocs/sgraman/blog/scripts/sb_fileio.php
on line
13
Strict Standards
: Non-static method fileio::strip_extension() should not be called statically in
/www/htdocs/sgraman/blog/scripts/sb_fileio.php
on line
41
Strict Standards
: Non-static method fileio::strip_extension() should not be called statically in
/www/htdocs/sgraman/blog/scripts/sb_fileio.php
on line
41
Strict Standards
: Non-static method fileio::strip_extension() should not be called statically in
/www/htdocs/sgraman/blog/scripts/sb_fileio.php
on line
41
Strict Standards
: Non-static method fileio::read_file() should not be called statically in
/www/htdocs/sgraman/blog/scripts/sb_fileio.php
on line
13
Strict Standards
: Non-static method fileio::file_listing() should not be called statically in
/www/htdocs/sgraman/blog/scripts/sb_fileio.php
on line
29
Strict Standards
: Non-static method fileio::file_listing() should not be called statically in
/www/htdocs/sgraman/blog/scripts/sb_fileio.php
on line
29
Strict Standards
: Non-static method fileio::file_listing() should not be called statically in
/www/htdocs/sgraman/blog/scripts/sb_fileio.php
on line
29
Strict Standards
: Non-static method fileio::read_file() should not be called statically in
/www/htdocs/sgraman/blog/scripts/sb_fileio.php
on line
13
Strict Standards
: Non-static method fileio::read_file() should not be called statically in
/www/htdocs/sgraman/blog/scripts/sb_fileio.php
on line
13
Strict Standards
: Non-static method fileio::read_file() should not be called statically in
/www/htdocs/sgraman/blog/scripts/sb_fileio.php
on line
13
Strict Standards
: Non-static method arrays::explode_key() should not be called statically in
/www/htdocs/sgraman/blog/scripts/sb_entry.php
on line
254
Strict Standards
: Non-static method fileio::read_file() should not be called statically in
/www/htdocs/sgraman/blog/scripts/sb_fileio.php
on line
13
Strict Standards
: Non-static method fileio::read_file() should not be called statically in
/www/htdocs/sgraman/blog/scripts/sb_fileio.php
on line
13
Strict Standards
: Non-static method fileio::read_file() should not be called statically in
/www/htdocs/sgraman/blog/scripts/sb_fileio.php
on line
13
Strict Standards
: Non-static method fileio::read_file() should not be called statically in
/www/htdocs/sgraman/blog/scripts/sb_fileio.php
on line
13
Strict Standards
: Non-static method fileio::read_file() should not be called statically in
/www/htdocs/sgraman/blog/scripts/sb_fileio.php
on line
13
Strict Standards
: Non-static method fileio::read_file() should not be called statically in
/www/htdocs/sgraman/blog/scripts/sb_fileio.php
on line
13
Strict Standards
: Non-static method fileio::read_file() should not be called statically in
/www/htdocs/sgraman/blog/scripts/sb_fileio.php
on line
13
Strict Standards
: Non-static method fileio::read_file() should not be called statically in
/www/htdocs/sgraman/blog/scripts/sb_fileio.php
on line
13
Strict Standards
: Non-static method fileio::strip_extension() should not be called statically in
/www/htdocs/sgraman/blog/scripts/sb_fileio.php
on line
41
Strict Standards
: Non-static method fileio::strip_extension() should not be called statically in
/www/htdocs/sgraman/blog/scripts/sb_fileio.php
on line
41
Strict Standards
: Non-static method fileio::strip_extension() should not be called statically in
/www/htdocs/sgraman/blog/scripts/sb_fileio.php
on line
41
Strict Standards
: Non-static method fileio::read_file() should not be called statically in
/www/htdocs/sgraman/blog/scripts/sb_fileio.php
on line
13
Strict Standards
: Non-static method fileio::file_listing() should not be called statically in
/www/htdocs/sgraman/blog/scripts/sb_fileio.php
on line
29
Strict Standards
: Non-static method fileio::file_listing() should not be called statically in
/www/htdocs/sgraman/blog/scripts/sb_fileio.php
on line
29
Strict Standards
: Non-static method fileio::file_listing() should not be called statically in
/www/htdocs/sgraman/blog/scripts/sb_fileio.php
on line
29
Strict Standards
: Non-static method fileio::read_file() should not be called statically in
/www/htdocs/sgraman/blog/scripts/sb_fileio.php
on line
13
Strict Standards
: Non-static method fileio::read_file() should not be called statically in
/www/htdocs/sgraman/blog/scripts/sb_fileio.php
on line
13
Strict Standards
: Non-static method fileio::read_file() should not be called statically in
/www/htdocs/sgraman/blog/scripts/sb_fileio.php
on line
13
Strict Standards
: Non-static method arrays::explode_key() should not be called statically in
/www/htdocs/sgraman/blog/scripts/sb_entry.php
on line
254
Strict Standards
: Non-static method fileio::read_file() should not be called statically in
/www/htdocs/sgraman/blog/scripts/sb_fileio.php
on line
13
Strict Standards
: Non-static method fileio::read_file() should not be called statically in
/www/htdocs/sgraman/blog/scripts/sb_fileio.php
on line
13
Strict Standards
: Non-static method fileio::read_file() should not be called statically in
/www/htdocs/sgraman/blog/scripts/sb_fileio.php
on line
13
Strict Standards
: Non-static method fileio::read_file() should not be called statically in
/www/htdocs/sgraman/blog/scripts/sb_fileio.php
on line
13
Strict Standards
: Non-static method fileio::read_file() should not be called statically in
/www/htdocs/sgraman/blog/scripts/sb_fileio.php
on line
13
Strict Standards
: Non-static method fileio::read_file() should not be called statically in
/www/htdocs/sgraman/blog/scripts/sb_fileio.php
on line
13
Strict Standards
: Non-static method fileio::read_file() should not be called statically in
/www/htdocs/sgraman/blog/scripts/sb_fileio.php
on line
13
Strict Standards
: Non-static method fileio::read_file() should not be called statically in
/www/htdocs/sgraman/blog/scripts/sb_fileio.php
on line
13
Strict Standards
: Non-static method fileio::strip_extension() should not be called statically in
/www/htdocs/sgraman/blog/scripts/sb_fileio.php
on line
41
Strict Standards
: Non-static method fileio::strip_extension() should not be called statically in
/www/htdocs/sgraman/blog/scripts/sb_fileio.php
on line
41
Strict Standards
: Non-static method fileio::strip_extension() should not be called statically in
/www/htdocs/sgraman/blog/scripts/sb_fileio.php
on line
41
Strict Standards
: Non-static method fileio::read_file() should not be called statically in
/www/htdocs/sgraman/blog/scripts/sb_fileio.php
on line
13
Strict Standards
: Non-static method fileio::file_listing() should not be called statically in
/www/htdocs/sgraman/blog/scripts/sb_fileio.php
on line
29
Strict Standards
: Non-static method fileio::file_listing() should not be called statically in
/www/htdocs/sgraman/blog/scripts/sb_fileio.php
on line
29
Strict Standards
: Non-static method fileio::file_listing() should not be called statically in
/www/htdocs/sgraman/blog/scripts/sb_fileio.php
on line
29
Strict Standards
: Non-static method fileio::read_file() should not be called statically in
/www/htdocs/sgraman/blog/scripts/sb_fileio.php
on line
13
Strict Standards
: Non-static method fileio::read_file() should not be called statically in
/www/htdocs/sgraman/blog/scripts/sb_fileio.php
on line
13
Strict Standards
: Non-static method fileio::read_file() should not be called statically in
/www/htdocs/sgraman/blog/scripts/sb_fileio.php
on line
13
Strict Standards
: Non-static method arrays::explode_key() should not be called statically in
/www/htdocs/sgraman/blog/scripts/sb_entry.php
on line
254
Strict Standards
: Non-static method fileio::read_file() should not be called statically in
/www/htdocs/sgraman/blog/scripts/sb_fileio.php
on line
13
Strict Standards
: Non-static method fileio::read_file() should not be called statically in
/www/htdocs/sgraman/blog/scripts/sb_fileio.php
on line
13
Strict Standards
: Non-static method fileio::read_file() should not be called statically in
/www/htdocs/sgraman/blog/scripts/sb_fileio.php
on line
13
Strict Standards
: Non-static method fileio::read_file() should not be called statically in
/www/htdocs/sgraman/blog/scripts/sb_fileio.php
on line
13
Strict Standards
: Non-static method fileio::read_file() should not be called statically in
/www/htdocs/sgraman/blog/scripts/sb_fileio.php
on line
13
Strict Standards
: Non-static method fileio::read_file() should not be called statically in
/www/htdocs/sgraman/blog/scripts/sb_fileio.php
on line
13
Strict Standards
: Non-static method fileio::read_file() should not be called statically in
/www/htdocs/sgraman/blog/scripts/sb_fileio.php
on line
13
Strict Standards
: Non-static method fileio::read_file() should not be called statically in
/www/htdocs/sgraman/blog/scripts/sb_fileio.php
on line
13
Strict Standards
: Non-static method fileio::strip_extension() should not be called statically in
/www/htdocs/sgraman/blog/scripts/sb_fileio.php
on line
41
Strict Standards
: Non-static method fileio::strip_extension() should not be called statically in
/www/htdocs/sgraman/blog/scripts/sb_fileio.php
on line
41
Strict Standards
: Non-static method fileio::strip_extension() should not be called statically in
/www/htdocs/sgraman/blog/scripts/sb_fileio.php
on line
41
Strict Standards
: Non-static method fileio::read_file() should not be called statically in
/www/htdocs/sgraman/blog/scripts/sb_fileio.php
on line
13
Strict Standards
: Non-static method fileio::file_listing() should not be called statically in
/www/htdocs/sgraman/blog/scripts/sb_fileio.php
on line
29
Strict Standards
: Non-static method fileio::file_listing() should not be called statically in
/www/htdocs/sgraman/blog/scripts/sb_fileio.php
on line
29
Strict Standards
: Non-static method fileio::file_listing() should not be called statically in
/www/htdocs/sgraman/blog/scripts/sb_fileio.php
on line
29
Strict Standards
: Non-static method fileio::read_file() should not be called statically in
/www/htdocs/sgraman/blog/scripts/sb_fileio.php
on line
13
Strict Standards
: Non-static method fileio::read_file() should not be called statically in
/www/htdocs/sgraman/blog/scripts/sb_fileio.php
on line
13
Strict Standards
: Non-static method fileio::read_file() should not be called statically in
/www/htdocs/sgraman/blog/scripts/sb_fileio.php
on line
13
Strict Standards
: Non-static method arrays::explode_key() should not be called statically in
/www/htdocs/sgraman/blog/scripts/sb_entry.php
on line
254
Strict Standards
: Non-static method fileio::read_file() should not be called statically in
/www/htdocs/sgraman/blog/scripts/sb_fileio.php
on line
13
Strict Standards
: Non-static method fileio::read_file() should not be called statically in
/www/htdocs/sgraman/blog/scripts/sb_fileio.php
on line
13
Strict Standards
: Non-static method fileio::read_file() should not be called statically in
/www/htdocs/sgraman/blog/scripts/sb_fileio.php
on line
13
Strict Standards
: Non-static method fileio::read_file() should not be called statically in
/www/htdocs/sgraman/blog/scripts/sb_fileio.php
on line
13
Strict Standards
: Non-static method fileio::read_file() should not be called statically in
/www/htdocs/sgraman/blog/scripts/sb_fileio.php
on line
13
Strict Standards
: Non-static method fileio::read_file() should not be called statically in
/www/htdocs/sgraman/blog/scripts/sb_fileio.php
on line
13
Strict Standards
: Non-static method fileio::read_file() should not be called statically in
/www/htdocs/sgraman/blog/scripts/sb_fileio.php
on line
13
Strict Standards
: Non-static method fileio::read_file() should not be called statically in
/www/htdocs/sgraman/blog/scripts/sb_fileio.php
on line
13
Strict Standards
: Non-static method fileio::strip_extension() should not be called statically in
/www/htdocs/sgraman/blog/scripts/sb_fileio.php
on line
41
Strict Standards
: Non-static method fileio::strip_extension() should not be called statically in
/www/htdocs/sgraman/blog/scripts/sb_fileio.php
on line
41
Strict Standards
: Non-static method fileio::strip_extension() should not be called statically in
/www/htdocs/sgraman/blog/scripts/sb_fileio.php
on line
41
Strict Standards
: Non-static method fileio::read_file() should not be called statically in
/www/htdocs/sgraman/blog/scripts/sb_fileio.php
on line
13
Strict Standards
: Non-static method fileio::file_listing() should not be called statically in
/www/htdocs/sgraman/blog/scripts/sb_fileio.php
on line
29
Strict Standards
: Non-static method fileio::file_listing() should not be called statically in
/www/htdocs/sgraman/blog/scripts/sb_fileio.php
on line
29
Strict Standards
: Non-static method fileio::file_listing() should not be called statically in
/www/htdocs/sgraman/blog/scripts/sb_fileio.php
on line
29
Strict Standards
: Non-static method fileio::read_file() should not be called statically in
/www/htdocs/sgraman/blog/scripts/sb_fileio.php
on line
13
Strict Standards
: Non-static method fileio::read_file() should not be called statically in
/www/htdocs/sgraman/blog/scripts/sb_fileio.php
on line
13
Strict Standards
: Non-static method fileio::strip_extension() should not be called statically in
/www/htdocs/sgraman/blog/scripts/sb_fileio.php
on line
41
Strict Standards
: Non-static method fileio::strip_extension() should not be called statically in
/www/htdocs/sgraman/blog/scripts/sb_fileio.php
on line
41
Strict Standards
: Non-static method fileio::strip_extension() should not be called statically in
/www/htdocs/sgraman/blog/scripts/sb_fileio.php
on line
41
Strict Standards
: Non-static method fileio::strip_extension() should not be called statically in
/www/htdocs/sgraman/blog/scripts/sb_fileio.php
on line
41
Strict Standards
: Non-static method fileio::strip_extension() should not be called statically in
/www/htdocs/sgraman/blog/scripts/sb_fileio.php
on line
41
Strict Standards
: Non-static method fileio::strip_extension() should not be called statically in
/www/htdocs/sgraman/blog/scripts/sb_fileio.php
on line
41
Strict Standards
: Non-static method fileio::strip_extension() should not be called statically in
/www/htdocs/sgraman/blog/scripts/sb_fileio.php
on line
41
Strict Standards
: Non-static method fileio::strip_extension() should not be called statically in
/www/htdocs/sgraman/blog/scripts/sb_fileio.php
on line
41
Strict Standards
: Non-static method fileio::strip_extension() should not be called statically in
/www/htdocs/sgraman/blog/scripts/sb_fileio.php
on line
41
Strict Standards
: Non-static method fileio::strip_extension() should not be called statically in
/www/htdocs/sgraman/blog/scripts/sb_fileio.php
on line
41
Strict Standards
: Non-static method fileio::strip_extension() should not be called statically in
/www/htdocs/sgraman/blog/scripts/sb_fileio.php
on line
41
Strict Standards
: Non-static method fileio::strip_extension() should not be called statically in
/www/htdocs/sgraman/blog/scripts/sb_fileio.php
on line
41
Strict Standards
: Non-static method fileio::strip_extension() should not be called statically in
/www/htdocs/sgraman/blog/scripts/sb_fileio.php
on line
41

Either of these guys will be the next president of USA...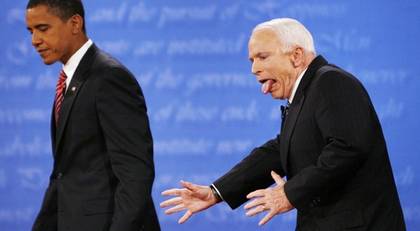 [ 1 comment ]
( 3187 views ) |
permalink
|





( 3 / 661 )
---

An anagram, what's that you might ask? It's when you scramble the letters in a given word or sentence to form a difference phrase. E.g. my name Stefan is an anagram of Fasten. Sometimes you'll come up with some really funky anagrams, like these:
Bob Marley = Marble Boy
William Shakespeare = I'll make a wise phrase
Jay Leno = Enjoy L.A.
Gene Simmons = Immense Song
Microsoft Windows = Sown in discomfort
George Bush = He bugs Gore
George W Bush = he grew bogus
Waitress = A stew, Sir?
Breasts = Bra sets
The Titanic disaster = Death, it starts in ice
graduation = out in a drag
Jennifer Aniston = fine in torn jeans
David Letterman = Nerd Amid Late TV
Statue of Liberty = Built to Stay Free
Evangelist = Evil's Agent
Apple, Inc = Epic Plan
goodbye = Obey god
ipod lover = poor devil
Actor Sylvester Stallone = Very cool talentless star
Margaret Thatcher = That great charmer
Clint Eastwood = Old West Action
Saddam Hussain = Humans sad side
Sheryl crow = her slow cry
If you like to find another anagram, try
http://www.anagramsite.com/.
[ add comment ]
( 2930 views ) |
permalink
|
related link
|





( 3 / 3201 )
---

Fali - my wife - has her birthday today. I bought some ceiling light for the hallway in our new apartment. She was happy with it so I guess I'll fix them tonight. However, the best thing was two small parcels I bought for the kids to give her. Early in the morning I went up, woke up the kids, gave them the parcels and then we sang "Happy birthday" for her while still asleep. One could tell she was more happy from having something from the kids then with I got for her, but then that's how it should be, isn't it?
[ add comment ]
( 1883 views ) |
permalink
|





( 3 / 3224 )
---

Oj, vad mycket det blev plötsligt att göra, hinner bara säga "Hej" och "Hej då". Men jag ska tipsa om ett kul online spel i alla fall som heter Blocks With Letters On (länk nedan). Det är ett spel där det gäller att flytta om klossar med bokstäver på så att den rådande oordningen blir korrekt. Jag tycker det är kul, är på nivå 18 av 64 och det är inte alltid så lätt. Lycka till.

I've been busy the last few days with stuff popping up all the time but at least I can hint this very nice online game called Blocks With Letters On. Very entertaining, try it (link below).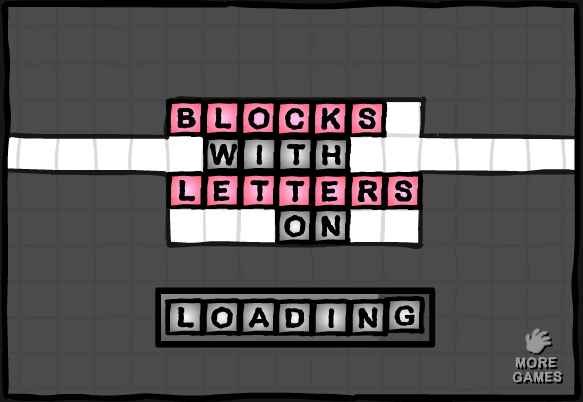 [ 1 comment ]
( 2700 views ) |
permalink
|
related link
|





( 3 / 3005 )
---

The Nobel Prize in Chemistry 2008 has been awarded to Osamu Shimomura, Martin Chalfie and Roger Y. Tsien, USA for the discovery and development of the green fluorescent protein, GFP.
The three men all contributed to the development of green fluorescent protein, which scientists today use widely to watch processes that were previously invisible, such as the development of nerve cells in the brain or how cancer cells spread.
Shimomura isolated the protein from a jellyfish already in 1962, and discovered its bright green glow when held under ultraviolet light. Chalfie attached the protein to material in cells in Caenorhabditis elegans, a roundworm used as a model in biological research, and made the cells glow. Tsien extended the colour palette beyond green allowing researchers to give various proteins and cells different colours. This enables scientists to follow several different biological processes at the same time.
GFP has also been used in other cases. A few years ago certain Asian fishes was genetically modified with green, red and yellow fluorescent protein and are now being sold commersially. Also pigs has been given GFP to become fluorescent and one of those pigs got a baby pig that was born fluorescent only 6 months ago.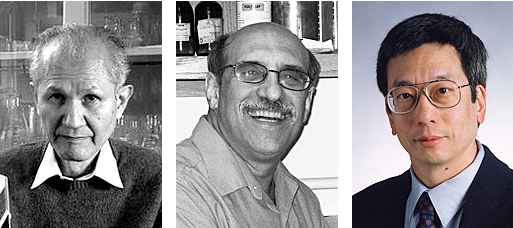 [ add comment ]
( 3340 views ) |
permalink
|





( 3 / 2701 )
---

Today the Nobel Prize in Physics 2008 was awarded. The prize is shared by Yoichiro Nambu, USA for the discovery of the mechanism of spontaneous broken symmetry in subatomic physics and Makoto Kobayashi and Toshihide Maskawa, Japan for the discovery of the origin of the broken symmetry which predicts the existence of at least three families of quarks in nature.
The works from the winners are related to a fundamental description of nature at the subatomic particle level through what is known as broken symmetries. In the early 1960s, Yoichiro Nambu developed a mathematical description of what is known as spontaneous broken symmetry related to subatomic particles. The breaking of symmetry scrambles the underlying order of nature. Nambu's work was instrumental in some unscrambling, namely the later unification of three of the four basic forces—the weak force, strong force and electromagnetism.
Makato Kobayashi and Toshihide Maskawa discovered different broken symmetries in the early 1970s, which predicted the existence of three kinds of quarks, which were later discovered. Their kind of broken symmetry is at the heart of the Big Bang. Full symmetry would have snuffed the Big Bang, but a tiny deviation of an extra matter particle for every 10 billion matter-antimatter particle pairs is apparently what allowed the universe to come into existence.
One might wonder what this kind of research is good for. Well, many people was wondering the same in the early 19th century when physicists was investigating in electricity what that would be good for. So maybe in the future there will be something out of this that will affect everybody's everyday life.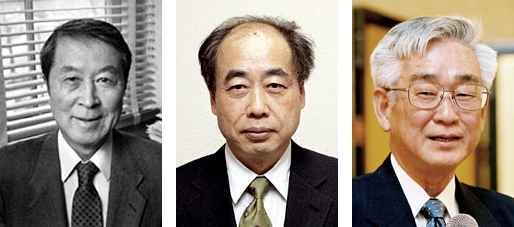 [ add comment ]
( 2878 views ) |
permalink
|





( 3 / 2641 )
---

You might call this week the Noble week as most of 2008 Noble Prizes will be announced this week. It kicks off today with "The Nobel Prize in Medicine 2008" as it's called officially. The prize is shared by
Harald zur Hausen
, Germany for his discovery of human papilloma viruses causing cervical cancer and
Françoise Barré-Sinoussi
and
Luc Montagnier
, France for their discovery of human immunodeficiency virus, HIV.
So the 2008 prizes are awarded for discoveries of important viruses. The human papilloma viruses (HPV) is a family of several hundered viruses of which two, HPV 16 and HPV 18, zur Hausen proved causing cervical cancer. He argued against common belief in early 1980's and showed his proof in 1983. Thanks to his discovery vaccine has been developed and this is now given to young women to protect this form of cancer.
The human immunodeficiency virus is well-known by most of us as HIV and it causes AIDS. By identifying this virus the fight against AIDS could improve dramatically by developing preventive medicine to slow down the disease. Today an estimated 60 million people has been infected by HIV and 25 million people had died from AIDS. Without Barré-Sinoussi and Montagnier's discovery these figures would have been much higher.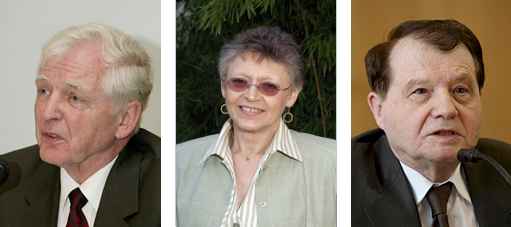 [ add comment ]
( 2608 views ) |
permalink
|





( 3 / 677 )
---

Browsing the internet I stumbled across this article from ZD-Net Australia regarding the top 10 worst IT disasters of all time. Being a computer guy I found it rather amusing although some of them - like No. 1 - is rather scary. My favorite disasters are No. 4 and 5, so clumsy... Enjoy the somewhat lenghly reading.
1. Faulty Soviet early warning system nearly causes WWIII (1983)
The threat of computers purposefully starting World War III is still the stuff of science fiction, but accidental software glitches have brought us worryingly close in the past. Although there are numerous alleged events of this ilk, the secrecy around military systems makes it hard to sort the urban myths from the real incidents.
However, one example that is well recorded happened back in 1983, and was the direct result of a software bug in the Soviet early warning system. The Russians' system told them that the US had launched five ballistic missiles. However, the duty officer for the system, one Lt Col Stanislav Petrov, claims he had a "...funny feeling in my gut", and reasoned if the US was really attacking they would launch more than five missiles.
The trigger for the near apocalyptic disaster was traced to a fault in software that was supposed to filter out false missile detections caused by satellites picking up sunlight reflections off cloud-tops.
2. The AT&T network collapse (1990)
In 1990, 75 million phone calls across the US went unanswered after a single switch at one of AT&T's 114 switching centres suffered a minor mechanical problem, which shut down the centre. When the centre came back up soon afterwards, it sent a message to other centres, which in turn caused them to trip and shut down and reset.
The culprit turned out to be an error in a single line of code -- not hackers, as some claimed at the time -- that had been added during a highly complex software upgrade. American Airlines alone estimated this small error cost it 200,000 reservations.
3. The explosion of the Ariane 5 (1996)
In 1996, Europe's newest and unmanned satellite-launching rocket, the Ariane 5, was intentionally blown up just seconds after taking off on its maiden flight from Kourou, French Guiana. The European Space Agency estimated that total development of Ariane 5 cost more than US$8bn. On board Ariane 5 was a US$500m set of four scientific satellites created to study how the Earth's magnetic field interacts with Solar Winds.
According to a piece in the New York Times Magazine, the self-destruction was triggered by software trying to stuff "a 64-bit number into a 16-bit space".
"This shutdown occurred 36.7 seconds after launch, when the guidance system's own computer tried to convert one piece of data -- the sideways velocity of the rocket -- from a 64-bit format to a 16-bit format. The number was too big, and an overflow error resulted. When the guidance system shut down, it passed control to an identical, redundant unit, which was there to provide backup in case of just such a failure. But the second unit had failed in the identical manner a few milliseconds before. And why not? It was running the same software," the article stated.
4. Airbus A380 suffers from incompatible software issues (2006)
The Airbus issue of 2006 highlighted a problem many companies can have with software: what happens when one program doesn't talk to another. In this case, the problem was caused by two halves of the same program, the CATIA software that is used to design and assembly of one of the world's largest aircraft, the Airbus A380.
This was a major European undertaking and, according to Business Week, the problem arose with communications between two organisations in the group: the French Dassault Aviation and a Hamburg factory.
Put simply, the German system used an out-of-date version of CATIA and the French system used the latest version. So when Airbus was bringing together two halves of the aircraft, the different software meant that the wiring on one did not match the wiring in the other. The cables could not meet up without being changed.
The problem was eventually fixed, but only at a cost that nobody seems to want to put an absolute figure on. But all agreed it cost a lot, and put the project back a year or more.
5. Mars Climate Observer metric problem (1998)
Two spacecraft, the Mars Climate Orbiter and the Mars Polar Lander, were part of a space program that, in 1998, was supposed to study the Martian weather, climate, and water and carbon dioxide content of the atmosphere. But a problem occurred when a navigation error caused the lander to fly too low in the atmosphere and it was destroyed.
What caused the error? A sub-contractor on the Nasa programme had used imperial units (as used in the US), rather than the Nasa-specified metric units (as used in Europe).
6. EDS and the Child Support Agency (2004)
Business services giant EDS waded in with this spectacular disaster, which assisted in the destruction of the Child Support Agency (CSA) and cost the taxpayer over a billion pounds.
EDS's CS2 computer system somehow managed to overpay 1.9 million people and underpay around 700,000, partly because the Department for Work and Pensions (DWP) decided to reform the CSA at the same time as bringing in CS2.
Edward Leigh, chairman of the Public Accounts Committee, was outraged when the National Audit Office subsequently picked through the wreckage: "Ignoring ample warnings, the DWP, the CSA and IT contractor EDS introduced a large, complex IT system at the same time as restructuring the agency. The new system was brought in and, as night follows day, stumbled and now has enormous operational difficulties."
7. The two-digit year-2000 problem (1999/2000)
A lot of IT vendors and contractors did very well out of the billions spent to avoid what many feared would be the disaster related to the Millennium Bug. Rumours of astronomical contract rates and retainers abounded.
And the sound of clocks striking midnight in time zones around the world was followed by... not panic, not crashing computer systems, in fact nothing more than new year celebrations.
So why include it here? That the predictions of doom came to naught is irrelevant, as we're not talking about the disaster that was averted, but the original disastrous decision to use and keep using for longer than was either necessary or prudent double digits for the date field in computer programs. A report by the House of Commons Library pegged the cost of fixing the bug at 400 billion pounds. And that is why the Millennium Bug deserves a place in the top 10.
8. When the laptops exploded (2006)
It all began simply, but certainly not quietly, when a laptop manufactured by Dell burst into flames at a trade show in Japan. There had been rumours of laptops catching fire, but the difference here was that the Dell laptop managed to do it in the full glare of publicity and video captured it in full colour.
"We have captured the notebook and have begun investigating the event," a Dell spokesperson reported at the time, and investigate Dell did. At the end of these investigations the problem was traced to an issue with the battery/power supply on the individual laptop that had overheated and caught fire.
It was an expensive issue for Dell to sort out. As a result of its investigation Dell decided that it would be prudent to recall and replace 4.1 million laptop batteries.
Company chief executive Michael Dell eventually laid the blame for the faulty batteries with the manufacturer of the battery cells -- Sony. But that wasn't the end of it. Apple reported issues for iPods and Macbooks and many PC suppliers reported the same. Matsushita alone has had to recall around 54 million devices. Sony estimated at the time that the overall cost of supporting the recall programmes of Apple and Dell would amount to between 20bn yen and 30bn yen
9. Siemens and the passport system (1999)
It was the summer of 1999, and half a million British citizens were less than happy to discover that their new passports couldn't be issued on time because the Passport Agency had brought in a new Siemens computer system without sufficiently testing it and training staff first.
Hundreds of people missed their holidays and the Home Office had to pay millions in compensation, staff overtime and umbrellas for the poor people queuing in the rain for passports. But why such an unexpectedly huge demand for passports? The law had recently changed to demand, for the first time, that all children under 16 had to get one if they were travelling abroad.
Tory MP Anne Widdecombe summed it up well while berating the then home secretary, Jack Straw, over the fiasco: "Common sense should have told him that to change the law on child passports at the same time as introducing a new computer system into the agency was storing up trouble for the future."
10. LA Airport flights grounded (2007)
Some 17,000 planes were grounded at Los Angeles International Airport earlier this year because of a software problem. The problem that hit systems at United States Customs and Border Protection (USCBP) agency was a simple one caused in a piece of lowly, inexpensive equipment.
The device in question was a network card that, instead of shutting down as perhaps it should have done, persisted in sending the incorrect data out across the network. The data then cascaded out until it hit the entire network at the USCBP and brought it to a standstill. Nobody could be authorised to leave or enter the US through the airport for eight hours. Passengers were not impressed.
Source: ZD-Net Australia
[ 2 comments ]
( 5582 views ) |
permalink
|
related link
|





( 3 / 2620 )
---

Some mixed results I might say. I transfered four players for this matchday and two fo those scored so that was good. Then on the other hand my captain Zlatan Ibrahimovic didn't produce anything special so I lost points there compared to the first day. 45 in total was a little bit less then expected and I hope to do better next time, especially among forwards.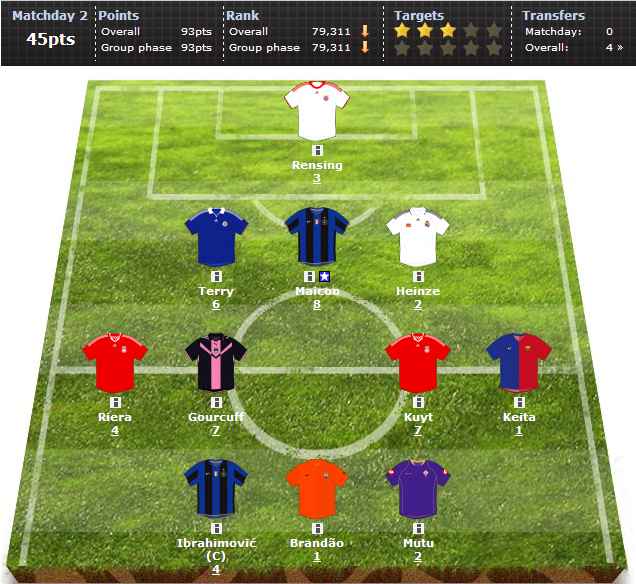 [ add comment ]
( 3362 views ) |
permalink
|





( 2.9 / 2179 )
---

Ända sedan Leksand slog Brynäs i SM-finalen 1978 har jag varit brynäsare, och för det mesta har det varit i dur och med stolthet. Men efter förra årets elitserie var det inte så konstigt att man hållit en låg profil hittills iår. Men nu törs jag nog hoppas lite i alla fall. Ledning i årets Elitserie efter 6 omgångar är inte fy skam.
Senast igår slogs MoDo tillbaka med 5-4 och det känns som om man åtminstone inte ska behöva hamna i kvalserien iår även om det ännu är långt kvar. Det blir att bekänna färg på lördag när Linköping kommer på besök i Läkerol Arena. Men jag är förhoppningsful obotlig optimist som jag är.
Nu är det bara IFK Norrköping som ska fixa sitt allsvenska kontrakt också så är allt frid och fröjd :)

[ add comment ]
( 8796 views ) |
permalink
|
related link
|





( 3 / 3553 )
---
<<First
<Back
| 11 | 12 | 13 | 14 | 15 | 16 | 17 | 18 | 19 | 20 |
Next>
Last>>