Strict Standards
: Non-static method fileio::read_file() should not be called statically in
/www/htdocs/sgraman/blog/scripts/sb_fileio.php
on line
13
Strict Standards
: Non-static method arrays::explode_key() should not be called statically in
/www/htdocs/sgraman/blog/scripts/sb_entry.php
on line
254
Strict Standards
: Non-static method fileio::read_file() should not be called statically in
/www/htdocs/sgraman/blog/scripts/sb_fileio.php
on line
13
Strict Standards
: Non-static method fileio::read_file() should not be called statically in
/www/htdocs/sgraman/blog/scripts/sb_fileio.php
on line
13
Strict Standards
: Non-static method fileio::read_file() should not be called statically in
/www/htdocs/sgraman/blog/scripts/sb_fileio.php
on line
13
Strict Standards
: Non-static method fileio::file_listing() should not be called statically in
/www/htdocs/sgraman/blog/scripts/sb_fileio.php
on line
29
Strict Standards
: Non-static method fileio::file_listing() should not be called statically in
/www/htdocs/sgraman/blog/scripts/sb_fileio.php
on line
29
Strict Standards
: Non-static method fileio::read_file() should not be called statically in
/www/htdocs/sgraman/blog/scripts/sb_fileio.php
on line
13
Strict Standards
: Non-static method fileio::write_file() should not be called statically in
/www/htdocs/sgraman/blog/scripts/sb_fileio.php
on line
17
Strict Standards
: Non-static method fileio::make_dir() should not be called statically in
/www/htdocs/sgraman/blog/scripts/classes/fileio.php
on line
70
Strict Standards
: Non-static method fileio::read_file() should not be called statically in
/www/htdocs/sgraman/blog/scripts/sb_fileio.php
on line
13
Strict Standards
: Non-static method arrays::explode_key() should not be called statically in
/www/htdocs/sgraman/blog/scripts/sb_entry.php
on line
254
Strict Standards
: Non-static method fileio::strip_extension() should not be called statically in
/www/htdocs/sgraman/blog/scripts/sb_fileio.php
on line
41
Strict Standards
: Non-static method fileio::read_file() should not be called statically in
/www/htdocs/sgraman/blog/scripts/sb_fileio.php
on line
13
Strict Standards
: Non-static method fileio::read_file() should not be called statically in
/www/htdocs/sgraman/blog/scripts/sb_fileio.php
on line
13

Urfågeln Archaeopteryx, vars fossil är ett av de mest berömda i historien, var sannolikt inte en fågel utan en dinosaurie. Det avslöjas i en ny studie. Studien, som presenteras i Nature av kinesiska paleontologer, bygger på ett sensationellt nytt fynd i Kina av en fågelliknande rovdinosaurie. Arten, som döpts till Xiaotingia zhengi, har likheter med Archaeopteryx men är otvivelaktigt en äkta dinosaurie, och inte en fågel. Vad mer är, när den nya arten tas med i en omfattande analys av släktskapen mellan Archaeopteryx och andra små rovdinosaurier hamnar Archaeopteryx på samma gren som Xiaotingia. "Urfågeln" är med andra ord inte en fågel, utan en dinosaurie.
Detta är kanske inte så märkligt som det låter. Redan när det första fossilet av Archaeopteryx beskrevs 1861, noterade många experter att den hade stora likheter med rovdinosaurierna. Hade inte dess fjädrar bevarats hade den tveklöst blivit klassificerad som en sådan. De många fynd av fjäderbeklädda dinosaurier som gjorts de senaste åren har dessutom tydliggjort att det är svårt att dra en tydlig gräns mellan fåglar och dinosaurier. Ändå är detroniseringen av Archaeopteryx en oerhörd händelse. Dess fossil har varit en ikon ända sedan Darwins tid.
Men vilken är i så fall den äldsta kända fågeln? I dagsläget är det möjligen en art som döpts till Epidexipteryx hui. Den levde för cirka 160 miljoner år sedan, vilket gör den äldre än Archaeopteryx. Fast även Epidexipteryx är ett gränsfall. Och vad det slutgiltiga svaret blir lär vi inte få reda på än på ett tag.

Source:
Archaeopteryx no longer first bird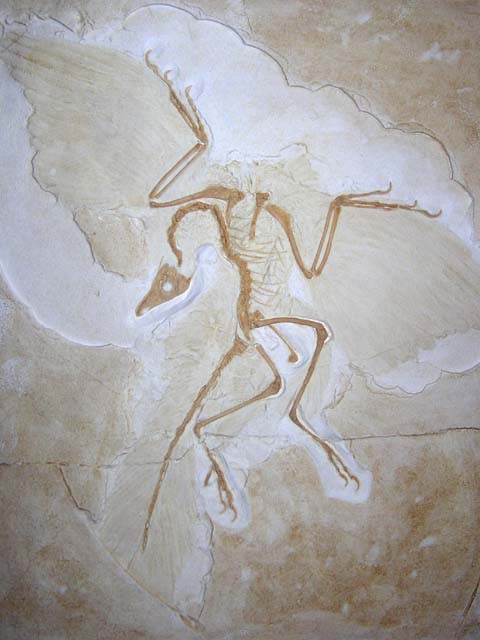 Den tidigare Urfågeln, Archaeopteryx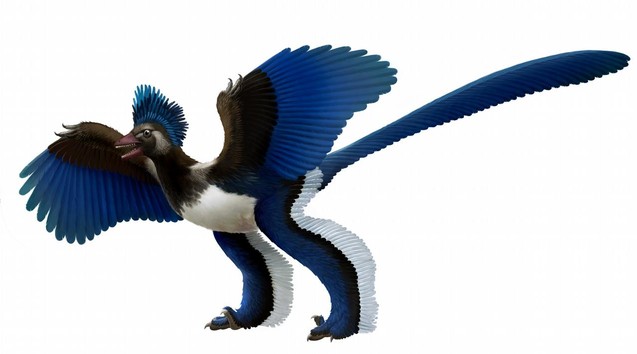 Xiaotingia zhengi, teckning av den nyupptäckta fågeln/dinosaurien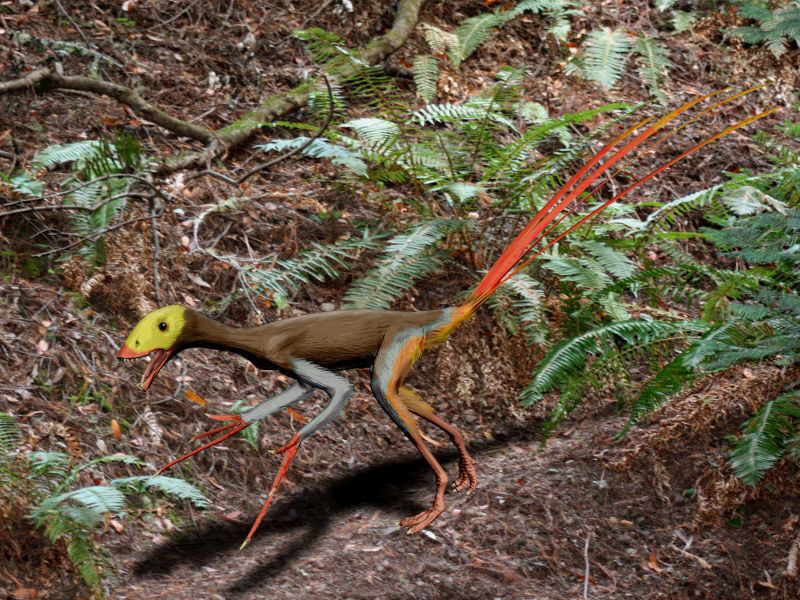 Epidexipteryx hui, den nya Urfågeln?
---
---
Add Comment
Fill out the form below to add your own comments.
Strict Standards
: Non-static method fileio::read_file() should not be called statically in
/www/htdocs/sgraman/blog/scripts/sb_fileio.php
on line
13
---