Strict Standards
: Non-static method fileio::read_file() should not be called statically in
/www/htdocs/sgraman/blog/scripts/sb_fileio.php
on line
13
Strict Standards
: Non-static method arrays::explode_key() should not be called statically in
/www/htdocs/sgraman/blog/scripts/sb_entry.php
on line
254
Strict Standards
: Non-static method fileio::read_file() should not be called statically in
/www/htdocs/sgraman/blog/scripts/sb_fileio.php
on line
13
Strict Standards
: Non-static method fileio::read_file() should not be called statically in
/www/htdocs/sgraman/blog/scripts/sb_fileio.php
on line
13
Strict Standards
: Non-static method fileio::read_file() should not be called statically in
/www/htdocs/sgraman/blog/scripts/sb_fileio.php
on line
13
Strict Standards
: Non-static method fileio::file_listing() should not be called statically in
/www/htdocs/sgraman/blog/scripts/sb_fileio.php
on line
29
Strict Standards
: Non-static method fileio::file_listing() should not be called statically in
/www/htdocs/sgraman/blog/scripts/sb_fileio.php
on line
29
Strict Standards
: Non-static method fileio::read_file() should not be called statically in
/www/htdocs/sgraman/blog/scripts/sb_fileio.php
on line
13
Strict Standards
: Non-static method fileio::write_file() should not be called statically in
/www/htdocs/sgraman/blog/scripts/sb_fileio.php
on line
17
Strict Standards
: Non-static method fileio::make_dir() should not be called statically in
/www/htdocs/sgraman/blog/scripts/classes/fileio.php
on line
70

One of the biggest prominences in years erupted from the sun's northwestern limb on April 13th. The massive plasma-filled structure rose up and burst during a ~2 hour period. Observers in Europe had a great view as you can see from the pictures below.
The eruption hurled a bright coronal mass ejection, CME, into space. The expanding cloud could deliver a glancing blow to Earth's magnetic field (Northern Light) around April 15th. Northern America and Scandinavia has a 35% estimate of polar geomagnetic activity when the CME arrives.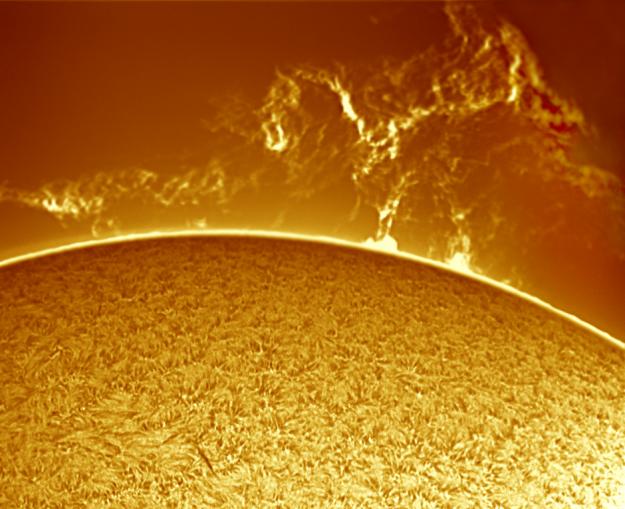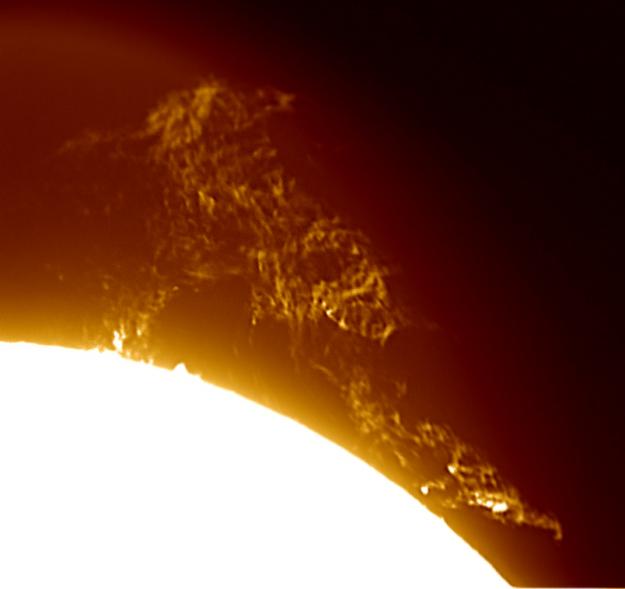 On Saturday, April 11th, a CME hit Earth's magnetic field. The impact caused a geomagnetic storm and, for the first time this year, ignited auroras over the continental United States and Scandinavia. "The lights were bright enough to produce a reflection from the surface of Lake Superior," says photographer Shawn Malone, who recorded the scene from a beach in Marquette, Michigan: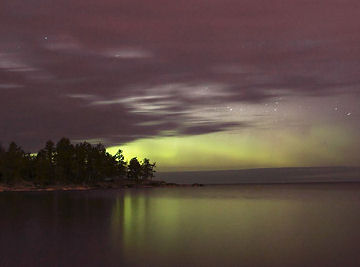 ---
Add Comment
Fill out the form below to add your own comments.
Strict Standards
: Non-static method fileio::read_file() should not be called statically in
/www/htdocs/sgraman/blog/scripts/sb_fileio.php
on line
13
---