Strict Standards
: Non-static method fileio::read_file() should not be called statically in
/www/htdocs/sgraman/blog/scripts/sb_fileio.php
on line
13
Strict Standards
: Non-static method arrays::explode_key() should not be called statically in
/www/htdocs/sgraman/blog/scripts/sb_entry.php
on line
254
Strict Standards
: Non-static method fileio::read_file() should not be called statically in
/www/htdocs/sgraman/blog/scripts/sb_fileio.php
on line
13
Strict Standards
: Non-static method fileio::read_file() should not be called statically in
/www/htdocs/sgraman/blog/scripts/sb_fileio.php
on line
13
Strict Standards
: Non-static method fileio::read_file() should not be called statically in
/www/htdocs/sgraman/blog/scripts/sb_fileio.php
on line
13
Strict Standards
: Non-static method fileio::file_listing() should not be called statically in
/www/htdocs/sgraman/blog/scripts/sb_fileio.php
on line
29
Strict Standards
: Non-static method fileio::file_listing() should not be called statically in
/www/htdocs/sgraman/blog/scripts/sb_fileio.php
on line
29
Strict Standards
: Non-static method fileio::read_file() should not be called statically in
/www/htdocs/sgraman/blog/scripts/sb_fileio.php
on line
13
Strict Standards
: Non-static method fileio::write_file() should not be called statically in
/www/htdocs/sgraman/blog/scripts/sb_fileio.php
on line
17
Strict Standards
: Non-static method fileio::make_dir() should not be called statically in
/www/htdocs/sgraman/blog/scripts/classes/fileio.php
on line
70

Äntligen - i nästa vecka startas partikelacceleratorn vid CERN åter efter att ha stått stilla i ett år. Strax efter starten den 9 september 2008 läckte helium in i tunneln där experimenten utförs och hela anläggningen fick stängas av. Nu vill forskarna återuppta sökandet efter svaren på några av universums gåtor. Bland annat hoppas man hitta den så kallade Higgs-partikeln som – om den finns – kan sitta fastklistrad på alla andra partiklar och kanske kan vara den som ger partiklarna massa.
För att hitta Higgs-partikeln låter man andra partiklar, protoner som finns i atomernas kärnor, frontalkrocka som två bilar i ett krocktest. Förhoppningen är att den hittills osynliga Higgs-partikeln, likt en dold skruv som legat oupptäckt i handskfacket, ska fara ut och visa sig efter kollisionen.
Trots att ingen har sett den så tror de flesta forskare att Higgs-partikeln verkligen finns. Och om den finns så borde Cerns enorma accelerator kunna hitta den även om ingen tror att det kommer att gå fort, det kan nog dröja några år än innan man kommit den på spåren.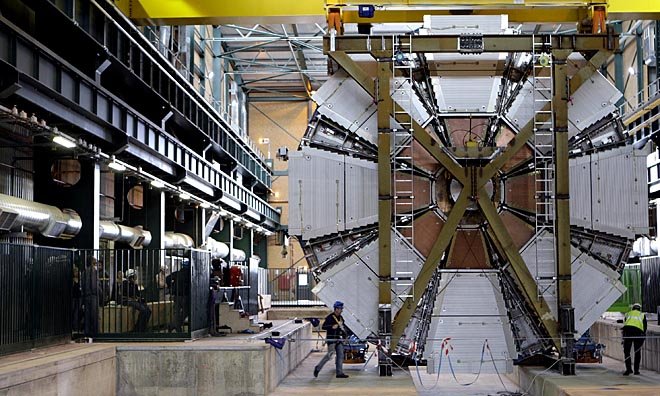 ---
Add Comment
Fill out the form below to add your own comments.
Strict Standards
: Non-static method fileio::read_file() should not be called statically in
/www/htdocs/sgraman/blog/scripts/sb_fileio.php
on line
13
---