Strict Standards
: Non-static method fileio::read_file() should not be called statically in
/www/htdocs/sgraman/blog/scripts/sb_fileio.php
on line
13
Strict Standards
: Non-static method arrays::explode_key() should not be called statically in
/www/htdocs/sgraman/blog/scripts/sb_entry.php
on line
254
Strict Standards
: Non-static method fileio::read_file() should not be called statically in
/www/htdocs/sgraman/blog/scripts/sb_fileio.php
on line
13
Strict Standards
: Non-static method fileio::read_file() should not be called statically in
/www/htdocs/sgraman/blog/scripts/sb_fileio.php
on line
13
Strict Standards
: Non-static method fileio::read_file() should not be called statically in
/www/htdocs/sgraman/blog/scripts/sb_fileio.php
on line
13
Strict Standards
: Non-static method fileio::file_listing() should not be called statically in
/www/htdocs/sgraman/blog/scripts/sb_fileio.php
on line
29
Strict Standards
: Non-static method fileio::file_listing() should not be called statically in
/www/htdocs/sgraman/blog/scripts/sb_fileio.php
on line
29
Strict Standards
: Non-static method fileio::read_file() should not be called statically in
/www/htdocs/sgraman/blog/scripts/sb_fileio.php
on line
13
Strict Standards
: Non-static method fileio::write_file() should not be called statically in
/www/htdocs/sgraman/blog/scripts/sb_fileio.php
on line
17
Strict Standards
: Non-static method fileio::make_dir() should not be called statically in
/www/htdocs/sgraman/blog/scripts/classes/fileio.php
on line
70

På tisdag finns det möjlighet att få se några extra ljusstarka stjärnfall rita linjer på natthimlen. Då har meteorsvärmen tauriderna sitt maximum. Tauriderna är namnet på en samling rymdstenar som liksom jorden cirklar i en bana runt solen. I början av november varje år rör sig jordklotet in i det område där antalet stenar och gruskorn är som störst. Detta får till följd att många av dem kolliderar med jorden och sedan brinner upp i atmosfären. Det är då som vi kan se dem som små lysande stjärnfall.
Gruset som faller över oss syns som bäst på kvällen den 3 november och på kvällen den 13 november. En del av stenarna kan vara upp till några meter stora och tappades en gång av kometen Encke i sin bana runt solen. När de slutligen krockar med jorden gör de det med en hastighet av 27 meter per sekund. Vad man kan hoppas på är att få se när någon av de större stenarna brinner upp. De största kan se ut som kulor av eld och väcker en hel del uppmärksamhet.
Namnet tauriderna kommer sig av att meteorerna ser ut att ha sin utgångspunkt i stjärnbilden Oxen (Taurus på latin) när de störtar in mot jorden. Så fram med varma kläder och kikare och gå ut och titta efter stjärnfallet.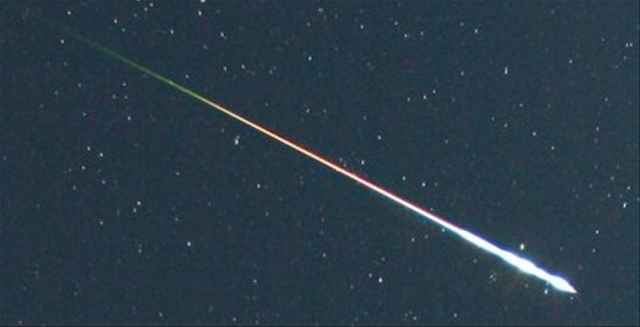 ---
Add Comment
Fill out the form below to add your own comments.
Strict Standards
: Non-static method fileio::read_file() should not be called statically in
/www/htdocs/sgraman/blog/scripts/sb_fileio.php
on line
13
---