Strict Standards
: Non-static method fileio::read_file() should not be called statically in
/www/htdocs/sgraman/blog/scripts/sb_fileio.php
on line
13
Strict Standards
: Non-static method arrays::explode_key() should not be called statically in
/www/htdocs/sgraman/blog/scripts/sb_entry.php
on line
254
Strict Standards
: Non-static method fileio::read_file() should not be called statically in
/www/htdocs/sgraman/blog/scripts/sb_fileio.php
on line
13
Strict Standards
: Non-static method fileio::read_file() should not be called statically in
/www/htdocs/sgraman/blog/scripts/sb_fileio.php
on line
13
Strict Standards
: Non-static method fileio::read_file() should not be called statically in
/www/htdocs/sgraman/blog/scripts/sb_fileio.php
on line
13
Strict Standards
: Non-static method fileio::file_listing() should not be called statically in
/www/htdocs/sgraman/blog/scripts/sb_fileio.php
on line
29
Strict Standards
: Non-static method fileio::file_listing() should not be called statically in
/www/htdocs/sgraman/blog/scripts/sb_fileio.php
on line
29
Strict Standards
: Non-static method fileio::read_file() should not be called statically in
/www/htdocs/sgraman/blog/scripts/sb_fileio.php
on line
13
Strict Standards
: Non-static method fileio::write_file() should not be called statically in
/www/htdocs/sgraman/blog/scripts/sb_fileio.php
on line
17
Strict Standards
: Non-static method fileio::make_dir() should not be called statically in
/www/htdocs/sgraman/blog/scripts/classes/fileio.php
on line
70

The Nobel prize in Physics 200p was awarded to
Charles Kao
, China "for groundbreaking achievements concerning the transmission of light in fibers for optical communication" and to
Willard Boyle
, Canada and
George Smith
, USA "for the invention of an imaging semiconductor circuit – the CCD sensor". "This year's Nobel Prize in Physics is awarded for two scientific achievements that have helped to shape the foundations of today's networked societies", The Royal Swedish Academy of Sciences Institute states.
In 1966, Charles Kao made a discovery that led to a breakthrough in fiber optics. He carefully calculated how to transmit light over long distances via optical glass fibers. With a fiber of purest glass it would be possible to transmit light signals over 100 kilometers, compared to only 20 meters for the fibers available in the 1960s. Today's telephony and computer technology is very much based on this discovery, as fiber optics became the bread and butter for surface base broadband commuications.
In 1969 Willard Boyle and George Smith invented the first successful imaging technology using a digital sensor, a CCD (Charge-Coupled Device). Digital photography has become an irreplaceable tool in many fields since and the invention can today be found in digital cameras and space technology.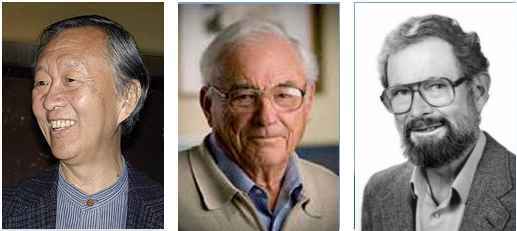 ---
Add Comment
Fill out the form below to add your own comments.
Strict Standards
: Non-static method fileio::read_file() should not be called statically in
/www/htdocs/sgraman/blog/scripts/sb_fileio.php
on line
13
---