Strict Standards
: Non-static method fileio::read_file() should not be called statically in
/www/htdocs/sgraman/blog/scripts/sb_fileio.php
on line
13
Strict Standards
: Non-static method arrays::explode_key() should not be called statically in
/www/htdocs/sgraman/blog/scripts/sb_entry.php
on line
254
Strict Standards
: Non-static method fileio::read_file() should not be called statically in
/www/htdocs/sgraman/blog/scripts/sb_fileio.php
on line
13
Strict Standards
: Non-static method fileio::read_file() should not be called statically in
/www/htdocs/sgraman/blog/scripts/sb_fileio.php
on line
13
Strict Standards
: Non-static method fileio::read_file() should not be called statically in
/www/htdocs/sgraman/blog/scripts/sb_fileio.php
on line
13
Strict Standards
: Non-static method fileio::file_listing() should not be called statically in
/www/htdocs/sgraman/blog/scripts/sb_fileio.php
on line
29
Strict Standards
: Non-static method fileio::file_listing() should not be called statically in
/www/htdocs/sgraman/blog/scripts/sb_fileio.php
on line
29
Strict Standards
: Non-static method fileio::read_file() should not be called statically in
/www/htdocs/sgraman/blog/scripts/sb_fileio.php
on line
13
Strict Standards
: Non-static method fileio::write_file() should not be called statically in
/www/htdocs/sgraman/blog/scripts/sb_fileio.php
on line
17
Strict Standards
: Non-static method fileio::make_dir() should not be called statically in
/www/htdocs/sgraman/blog/scripts/classes/fileio.php
on line
70

In science-fiction and in the movies, display screens are always impressive. Whether it's the giant plasma screen or the holographic projections, things are always visually appealing in fiction. What about in reality? What is the future of display technology? Most probably, something like the prototype handheld flexible displays that HP rolled out a few days ago.
This prototype from HP uses SAIL technology (self-aligned imprint lithography), a process by which a thin film of transistors is sandwiched with an E Ink film. This creates an unbreakable multipurpose plastic display. E Ink is the type of display technology that powers e-book readers like the Amazon Kindle and more recently, the Esquire E Ink cover page.
HP rolled out this prototype with the ASU Flexible Display Center. It's supposed to be unbreakable and uses a low-cost process that's like printing on a sheet of plastic. Apparently these screens use 90% less materials and are still cheap to make. This technology will most likely result in cheap, sharp and colorful flexible displays for future technology. This technology is still very young, but the market for such screens could grow to US$2.8 billion by 2013.
The applications for these types of displays are endless. They can become display screens of cell phones, laptops, computers and other devices. What's really cool is that they could roll up, which is something that is really useful. Large screens could be easily deployed.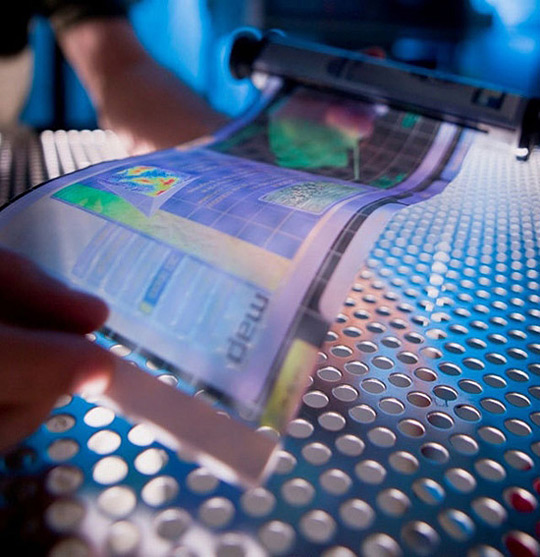 ---
Add Comment
Fill out the form below to add your own comments.
Strict Standards
: Non-static method fileio::read_file() should not be called statically in
/www/htdocs/sgraman/blog/scripts/sb_fileio.php
on line
13
---