Strict Standards
: Non-static method fileio::read_file() should not be called statically in
/www/htdocs/sgraman/blog/scripts/sb_fileio.php
on line
13
Strict Standards
: Non-static method arrays::explode_key() should not be called statically in
/www/htdocs/sgraman/blog/scripts/sb_entry.php
on line
254
Strict Standards
: Non-static method fileio::read_file() should not be called statically in
/www/htdocs/sgraman/blog/scripts/sb_fileio.php
on line
13
Strict Standards
: Non-static method fileio::read_file() should not be called statically in
/www/htdocs/sgraman/blog/scripts/sb_fileio.php
on line
13
Strict Standards
: Non-static method fileio::read_file() should not be called statically in
/www/htdocs/sgraman/blog/scripts/sb_fileio.php
on line
13
Strict Standards
: Non-static method fileio::file_listing() should not be called statically in
/www/htdocs/sgraman/blog/scripts/sb_fileio.php
on line
29
Strict Standards
: Non-static method fileio::file_listing() should not be called statically in
/www/htdocs/sgraman/blog/scripts/sb_fileio.php
on line
29
Strict Standards
: Non-static method fileio::read_file() should not be called statically in
/www/htdocs/sgraman/blog/scripts/sb_fileio.php
on line
13
Strict Standards
: Non-static method fileio::write_file() should not be called statically in
/www/htdocs/sgraman/blog/scripts/sb_fileio.php
on line
17
Strict Standards
: Non-static method fileio::make_dir() should not be called statically in
/www/htdocs/sgraman/blog/scripts/classes/fileio.php
on line
70

For him: Space Cube - The Two Inch Square Computer
The two inch square Space Cube computer is a first in small form factor. It's smaller than a cup or an apple, yet packs a punch. This is what the future of computing will be, extremely small and portable computers that weigh barely more than a cup of coffee. The Space Cube comes with a 300 MHz processor, 16MB of flash memory, 64MB of SDRAM and a 1GB CompactFlash card loaded with Red Hat Linux. There is a single USB port on the outside, VGA, Ethernet port, RS232 port, a mic and speaker plugs. The Space Cube is powered by a 5V plug.
The most important port is the Space Wire port, a proprietary interface used by the space agencies, such as ESA, NASA and JAXA, for when the Space Cube actually goes into space. The Space Cube was built for the computing needs of orbital and space vehicles. The Space Cube will be available soon in Japan for about $2700. The initial estimate was around $325, but the Space Wire port makes the little thing a lot more expensive.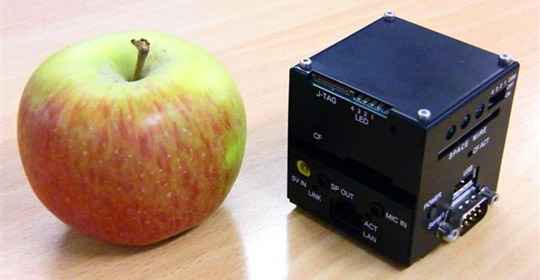 For her: HP Fashion Edition Notebook By Vivienne Tam
Most laptops look the same, especially with PC compatible ones. That's one of the reasons why any laptop that looks distinctive will be immensely popular. It's only recently that laptop manufacturers have started catering to people who enjoy style and function. HP has teamed up with world-renowned fashion designer Vivienne Tam to create a special edition notebook.
The HP Vivienne Tam Special Edition notebook represents the first time a computer company has partnered with a globally renowned designer to create a notebook PC that offers all the style and power needed for a delightful technology experience. Tam also worked with HP to design the notebook's accessories and packaging. The top of the notebook is gleaming red and bursting with peony flowers. The peony design is meticulously carried inside the notebook, under the keypad. The notebook also features a complementary embroidered storage sleeve that helps keep the exterior protected while being carried as a clutch.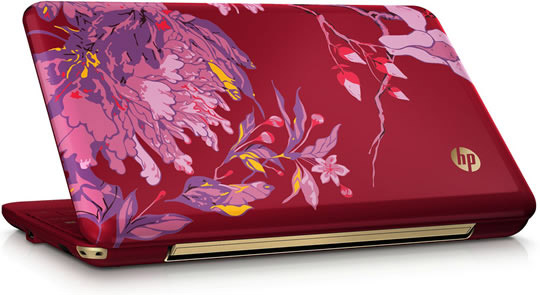 ---
Add Comment
Fill out the form below to add your own comments.
Strict Standards
: Non-static method fileio::read_file() should not be called statically in
/www/htdocs/sgraman/blog/scripts/sb_fileio.php
on line
13
---