Teresa Teng Forever
Page 2 of 10
---



At 10 o'clock on the night of May 11, Tseng Ta-fu, the 45-year-old owner of a bookshop, got in his friend's car for the journey to Taoyuan to meet his idol--Teresa Teng. The simple white coffin sitting in the huge transport warehouse at the airport presented an unexpectedly poignant scene.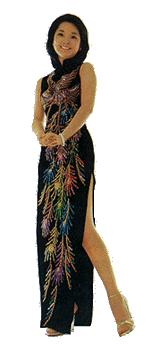 With his hands clasped together, Tseng forlornly watched the hearse pull away into the dark of night. The next day, he went to the municipal funeral hall in hopes of paying his last respects, but was unable to because he is not a family member. Twenty-some years ago, Tseng was serving as an army medic stationed in Kinmen. The long and lonely days at this front-line station were made a little easier to bear by the warmth that came through in Teresa's singing. After returning to civilian life, whenever things were not going well he always found solace in Teng's music. Teresa Teng occupies an important place in his memories of his twenties and early thirties.
He was there applauding wildly at a special concert marking 15 years of show business for "Little Teng." And during the special auction to raise money for Chinese civil war veterans stranded for decades in northern Thailand, he was unable to buy one of her pictures despite bidding NT$100,000. Besides listening himself, he has always given his friends and relatives Teresa Teng CDs and tapes for birthday gifts.
When the news of Teng's death hit, Tseng was unable to sleep for a couple of nights. He listened to her albums non-stop for ten days. His store was also constantly bathed in her gentle voice.

A subdued Tseng, who his wife describes as mourning as if for his own parents, says that he once gave his wife instructions if he were to die first: On the seventh day after his death, when by Chinese tradition the family arranges for ceremonies to pacify and see off the soul of the deceased for the last time, she need only play the music of Teresa Teng and he would surely rest in peace.

Tseng makes one point especially clear: He is far from being the only Teresa Teng fan with such a feeling of loyalty.






2


---



| Contact and Feedback |