Strict Standards
: Non-static method fileio::read_file() should not be called statically in
/www/htdocs/sgraman/blog/scripts/sb_fileio.php
on line
13
Strict Standards
: Non-static method arrays::explode_key() should not be called statically in
/www/htdocs/sgraman/blog/scripts/sb_entry.php
on line
254
Strict Standards
: Non-static method fileio::read_file() should not be called statically in
/www/htdocs/sgraman/blog/scripts/sb_fileio.php
on line
13
Strict Standards
: Non-static method fileio::read_file() should not be called statically in
/www/htdocs/sgraman/blog/scripts/sb_fileio.php
on line
13
Strict Standards
: Non-static method fileio::read_file() should not be called statically in
/www/htdocs/sgraman/blog/scripts/sb_fileio.php
on line
13
Strict Standards
: Non-static method fileio::file_listing() should not be called statically in
/www/htdocs/sgraman/blog/scripts/sb_fileio.php
on line
29
Strict Standards
: Non-static method fileio::file_listing() should not be called statically in
/www/htdocs/sgraman/blog/scripts/sb_fileio.php
on line
29
Strict Standards
: Non-static method fileio::read_file() should not be called statically in
/www/htdocs/sgraman/blog/scripts/sb_fileio.php
on line
13
Strict Standards
: Non-static method fileio::write_file() should not be called statically in
/www/htdocs/sgraman/blog/scripts/sb_fileio.php
on line
17
Strict Standards
: Non-static method fileio::make_dir() should not be called statically in
/www/htdocs/sgraman/blog/scripts/classes/fileio.php
on line
70

This year's Nobel Laureates have revolutionized our understanding of the immune system by discovering key principles for its activation.
Scientists have long been searching for the gatekeepers of the immune response by which man and other animals defend themselves against attack by bacteria and other microorganisms.
Bruce Beutler
and
Jules Hoffmann
discovered receptor proteins that can recognize such microorganisms and activate innate immunity, the first step in the body's immune response.
Ralph Steinman
discovered the dendritic cells of the immune system and their unique capacity to activate and regulate adaptive immunity, the later stage of the immune response during which microorganisms are cleared from the body.
The discoveries of the three Nobel Laureates have revealed how the innate and adaptive phases of the immune response are activated and thereby provided novel insights into disease mechanisms. Their work has opened up new avenues for the development of prevention and therapy against infections, cancer, and inflammatory diseases.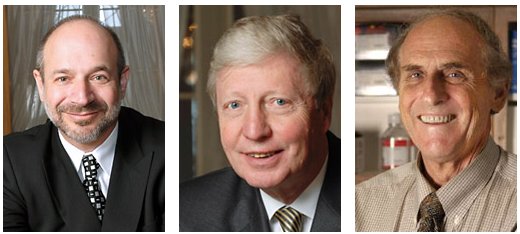 ---
Add Comment
Fill out the form below to add your own comments.
Strict Standards
: Non-static method fileio::read_file() should not be called statically in
/www/htdocs/sgraman/blog/scripts/sb_fileio.php
on line
13
---