Strict Standards
: Non-static method fileio::read_file() should not be called statically in
/www/htdocs/sgraman/blog/scripts/sb_fileio.php
on line
13
Strict Standards
: Non-static method arrays::explode_key() should not be called statically in
/www/htdocs/sgraman/blog/scripts/sb_entry.php
on line
254
Strict Standards
: Non-static method fileio::read_file() should not be called statically in
/www/htdocs/sgraman/blog/scripts/sb_fileio.php
on line
13
Strict Standards
: Non-static method fileio::read_file() should not be called statically in
/www/htdocs/sgraman/blog/scripts/sb_fileio.php
on line
13
Strict Standards
: Non-static method fileio::read_file() should not be called statically in
/www/htdocs/sgraman/blog/scripts/sb_fileio.php
on line
13
Strict Standards
: Non-static method fileio::file_listing() should not be called statically in
/www/htdocs/sgraman/blog/scripts/sb_fileio.php
on line
29
Strict Standards
: Non-static method fileio::file_listing() should not be called statically in
/www/htdocs/sgraman/blog/scripts/sb_fileio.php
on line
29
Strict Standards
: Non-static method fileio::read_file() should not be called statically in
/www/htdocs/sgraman/blog/scripts/sb_fileio.php
on line
13
Strict Standards
: Non-static method fileio::write_file() should not be called statically in
/www/htdocs/sgraman/blog/scripts/sb_fileio.php
on line
17
Strict Standards
: Non-static method fileio::make_dir() should not be called statically in
/www/htdocs/sgraman/blog/scripts/classes/fileio.php
on line
70

Although there are plenty of computer manufacturers offering "greener", more energy efficient computers these days, information about putting together an energy efficient and environmentally friendly machine isn't nearly as common. There are so many component options out there, it can be a trying task to find parts designed for high efficiency and hopefully also designed to be easily recyclable/less hazardous when its lifecycle is over.
In the first post I covered CPUs, hard drives, memory and motherboards. This time I'll talk about graphics cards, power supplies, and cases. Referencing these two posts you should be able to put together a PC more green than their off-the-shelf counterparts.
1. Video Cards: While integrated video cards may have low performance, they're usually more than proficient at serving the needs of the typical user whose daily tasks revolve around non GPU intensive tasks like reading email, working on spreadsheets, word processing, and browsing online. Conversely, these integrated graphics motherboards won't work well if you do a lot of graphic design, animation, gaming and other tasks that necessitate a lot of power.
The most recent and powerful cards happen to also be the most power hungry. Pushing millions of pixels in fractions of seconds across your screen(s) requires plenty of power, including fans and cooling systems. So unless you're a hardcore gamer, consider using a more modestly equipped video card or integrated option. For reference, a gamer's video card like the Afox Radeon HD 6850 uses 71W idle and up to 210W when working hard.
-
NVIDIA GeForce GTX 520
: This card is listed at a maximum wattage of 29W.
-
ATI Radeon HD 5450
: The typical power consumption of this card is 19.1W.
2. Power Supplies: For the last few years there's been an initiative to get power supplies more energy efficient. While most max out at around 60% efficiency, there are a few available currently that are 80%+ efficient, thanks to the 80 PLUS Power Supply Program.
-
Antec Earthwatts
: These power supplies are either certified 80 PLUS standard or Bronze and will reduce your power consumption.
-
Antec HCP-850
: This is one of the few power supplies that has received the 80 PLUS Gold certification.
-
Corsair Gold AX850
: This is another power supply that receives a Gold certification from 80 PLUS. The other good thing is that you'll receive a very good warranty from these manufacturers on such products. Corsair's lasts for 7 years.
3. Enclosures: Compared to plastic or steel, aluminum cases will offer better heat dissipation, which will make your PC work better, faster, be optimal in energy efficiency, and extend the life of your setup. The only problem with aluminum cases is the upfront cost of purchasing one, but we still they're worth the investment. Look for a case with side ducts and consider even leaving your side case open to cool it as best as possible. Also instead of smaller fans, you should opt for 120mm fans, which will cool the same amount as their 90mm equivalent, only they'll have to rotate less to cool the same amount using less power, a case where bigger is indeed better.
-
Lian Li Industries Mini-Q PC-Q11
: The aluminum clad Mini-Q PC-Q11 is designed for optimal air flow at low RPM; the minimal style is partnered up with a smaller size,
-
Antec 900 Series
: This enclosure is made out of steel, but features 200mm fans, resulting in less power consumption while cooling PC components.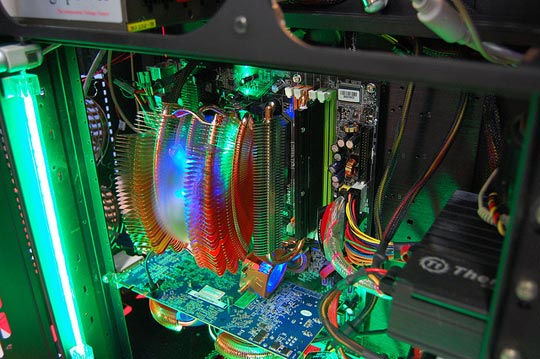 ---
Add Comment
Fill out the form below to add your own comments.
Strict Standards
: Non-static method fileio::read_file() should not be called statically in
/www/htdocs/sgraman/blog/scripts/sb_fileio.php
on line
13
---