Strict Standards
: Non-static method fileio::read_file() should not be called statically in
/www/htdocs/sgraman/blog/scripts/sb_fileio.php
on line
13
Strict Standards
: Non-static method arrays::explode_key() should not be called statically in
/www/htdocs/sgraman/blog/scripts/sb_entry.php
on line
254
Strict Standards
: Non-static method fileio::read_file() should not be called statically in
/www/htdocs/sgraman/blog/scripts/sb_fileio.php
on line
13
Strict Standards
: Non-static method fileio::read_file() should not be called statically in
/www/htdocs/sgraman/blog/scripts/sb_fileio.php
on line
13
Strict Standards
: Non-static method fileio::read_file() should not be called statically in
/www/htdocs/sgraman/blog/scripts/sb_fileio.php
on line
13
Strict Standards
: Non-static method fileio::file_listing() should not be called statically in
/www/htdocs/sgraman/blog/scripts/sb_fileio.php
on line
29
Strict Standards
: Non-static method fileio::file_listing() should not be called statically in
/www/htdocs/sgraman/blog/scripts/sb_fileio.php
on line
29
Strict Standards
: Non-static method fileio::read_file() should not be called statically in
/www/htdocs/sgraman/blog/scripts/sb_fileio.php
on line
13
Strict Standards
: Non-static method fileio::write_file() should not be called statically in
/www/htdocs/sgraman/blog/scripts/sb_fileio.php
on line
17
Strict Standards
: Non-static method fileio::make_dir() should not be called statically in
/www/htdocs/sgraman/blog/scripts/classes/fileio.php
on line
70

Hur högt är egentligen världens högsta berg? Den frågan har Kina och Nepal länge tvistat om. Nu har Nepal beordrat att Mount Everests exakta höjd ska fastställas en gång för alla. Mount Everests officiella höjd är 8.848 meter över havet, den uppgiften kommer från en indisk mätning som genomfördes på 1950-talet. Men Kina och Nepal har haft en långvarig dispyt om hur högt berget, som ligger på gränsen mellan båda länderna, egentligen är och olika mätningar har gett olika resultat.
Kineserna menar att det är höjden på själva berget som ska räknas, nepaleserna å sin sida vill även inkludera den snötäckta toppen som gör berget fyra meter högre. Måste säga att jag håller med kineserna här.
Så sent som förra året var länderna överens om att höjden är 8.848 meter. Men Gopal Giri, en talesperson för Nepals regering, hävdar att kinesiska ombud ofta använder höjden 8.844 meter i diskussioner om landsgränserna.
– Vi har påbörjat mätningar för att bringa klarhet i den här oredan. Nu har vi både teknologin och reserurserna för att mäta själva, sade Gopal Giri.
Mätningarna blir därmed de första som Nepals regering själva ligger bakom. Resultatet kommer att presenteras om två år. 1999 mätte amerikanska forskare med hjälp av gps-teknik berget och kom fram till att höjden var 8.850 meter. Den siffran har accepterats i vissa läger, men den officiella höjden på 8.848 meter kvarstår.

Source:
Nepal to re-measure Mount Everest to end China row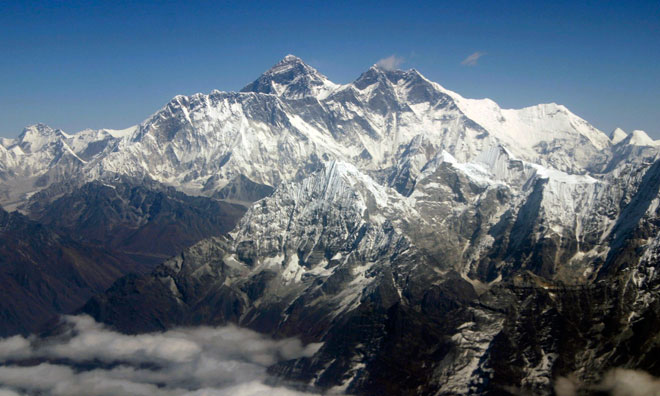 ---
Add Comment
Fill out the form below to add your own comments.
Strict Standards
: Non-static method fileio::read_file() should not be called statically in
/www/htdocs/sgraman/blog/scripts/sb_fileio.php
on line
13
---