Strict Standards
: Non-static method fileio::read_file() should not be called statically in
/www/htdocs/sgraman/blog/scripts/sb_fileio.php
on line
13
Strict Standards
: Non-static method arrays::explode_key() should not be called statically in
/www/htdocs/sgraman/blog/scripts/sb_entry.php
on line
254
Strict Standards
: Non-static method fileio::read_file() should not be called statically in
/www/htdocs/sgraman/blog/scripts/sb_fileio.php
on line
13
Strict Standards
: Non-static method fileio::read_file() should not be called statically in
/www/htdocs/sgraman/blog/scripts/sb_fileio.php
on line
13
Strict Standards
: Non-static method fileio::read_file() should not be called statically in
/www/htdocs/sgraman/blog/scripts/sb_fileio.php
on line
13
Strict Standards
: Non-static method fileio::file_listing() should not be called statically in
/www/htdocs/sgraman/blog/scripts/sb_fileio.php
on line
29
Strict Standards
: Non-static method fileio::file_listing() should not be called statically in
/www/htdocs/sgraman/blog/scripts/sb_fileio.php
on line
29
Strict Standards
: Non-static method fileio::read_file() should not be called statically in
/www/htdocs/sgraman/blog/scripts/sb_fileio.php
on line
13
Strict Standards
: Non-static method fileio::write_file() should not be called statically in
/www/htdocs/sgraman/blog/scripts/sb_fileio.php
on line
17
Strict Standards
: Non-static method fileio::make_dir() should not be called statically in
/www/htdocs/sgraman/blog/scripts/classes/fileio.php
on line
70

Igår gick jag på derby på Råsunda och såg AIK slå Hammarby med 2-1. Det var evigheter sedan jag såg fotboll live senast, och detta var mitt andra besök på Råsunda så det blir inte så ofta. Men när det kostar så pass mycket som 400 kr att gå kan det inte bli ofta...
Förra gången var hösten 1985. Jag hade precis flyttat till Stockholm och gick för att se Sverige-Västtyskland spela VM-kval. Jag stod på ena kortsidan och när första halvlek var slut hade jag från nära håll sett två bollar rulla imål och Västtyskland ledde med 2-0. Sverige behövde minst oavgjort för att ha en chance att gå till VM så chanserna var små nu.
Men så gjorde Dan Corneliusson 2-1 och hoppet tändes. Trots många chanser stod det dock fortfarande 2-1 efter 90 min. Då kommer Mats Magnusson in, Sverige får till ett anfall till och Torbjörn Nilsson får fram en stickare till Mats som gör 2-2. Maken till jubel får man leta eftet och hela publikhavet föll rakt ner mot målet. Så småningom dabbade sig Sverige mot Tjeckoslovakien så det blev inget VM ändå.
Derbyt då? Jodå, det var en riktigt bra match, Hammarby bjöd upp till dans i synnerhet i andra halvlek. Men till slut drog AIK det längsta strået och är nära SM guld nu medans Hammarby ligger sist i Allsvenskan. Vi får se på onsdag hur det går för de båda.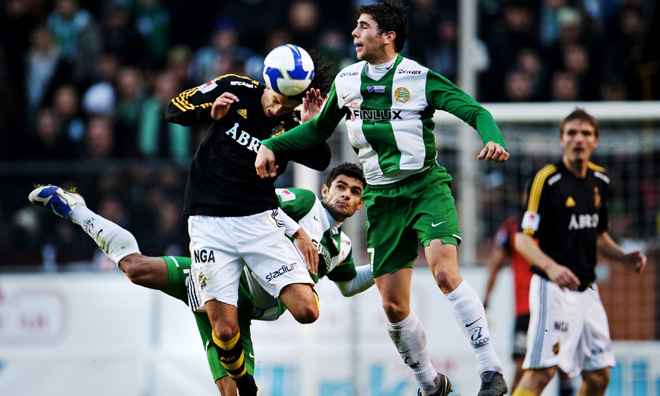 ---
Add Comment
Fill out the form below to add your own comments.
Strict Standards
: Non-static method fileio::read_file() should not be called statically in
/www/htdocs/sgraman/blog/scripts/sb_fileio.php
on line
13
---