Strict Standards
: Non-static method fileio::read_file() should not be called statically in
/www/htdocs/sgraman/blog/scripts/sb_fileio.php
on line
13
Strict Standards
: Non-static method arrays::explode_key() should not be called statically in
/www/htdocs/sgraman/blog/scripts/sb_entry.php
on line
254
Strict Standards
: Non-static method fileio::read_file() should not be called statically in
/www/htdocs/sgraman/blog/scripts/sb_fileio.php
on line
13
Strict Standards
: Non-static method fileio::read_file() should not be called statically in
/www/htdocs/sgraman/blog/scripts/sb_fileio.php
on line
13
Strict Standards
: Non-static method fileio::read_file() should not be called statically in
/www/htdocs/sgraman/blog/scripts/sb_fileio.php
on line
13
Strict Standards
: Non-static method fileio::file_listing() should not be called statically in
/www/htdocs/sgraman/blog/scripts/sb_fileio.php
on line
29
Strict Standards
: Non-static method fileio::file_listing() should not be called statically in
/www/htdocs/sgraman/blog/scripts/sb_fileio.php
on line
29
Strict Standards
: Non-static method fileio::read_file() should not be called statically in
/www/htdocs/sgraman/blog/scripts/sb_fileio.php
on line
13
Strict Standards
: Non-static method fileio::write_file() should not be called statically in
/www/htdocs/sgraman/blog/scripts/sb_fileio.php
on line
17
Strict Standards
: Non-static method fileio::make_dir() should not be called statically in
/www/htdocs/sgraman/blog/scripts/classes/fileio.php
on line
70

Igår satte Usin Bolt nytt världsrekord på 100 meter med 9,58 vid VM i Berlin. 9,58 är nästan ofattbart när man betänker att allt under 10 sek är fantastiskt redan det. Och det är alltid färgade löpare som springer snabbt, inte vita, då de har en annan muskelsammansättning. Färgade har mycket mer av snabba och flexibla muskler medans vita har mer av starka och tröga muskler. Så vitt jag vet är det än idag endast en (1) vit någonsin som sprungit 100 meter under 10 sekunder - Peter Karlsson.
I början på 1990-talet hade Sverige ett par starka 100 meterslöpare av vilka Peter var den bäste. De tränade staffett tillsammans och var så bra att de sprang OS-finalen i Atlanta 1996. Peters prestation inträffade den 8 feb 2008 när han sprang på 9,98, tyvärr dock med för mycket medvind så något officiellt rekord blev det inte. Men i historieböckerna är han ändå snabbast i Sverige med sina godkända 10,18, också från 1996.
Nedan ett klipp från 9,98-loppet då det begav sig.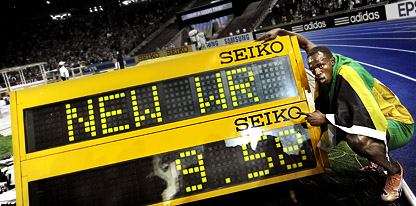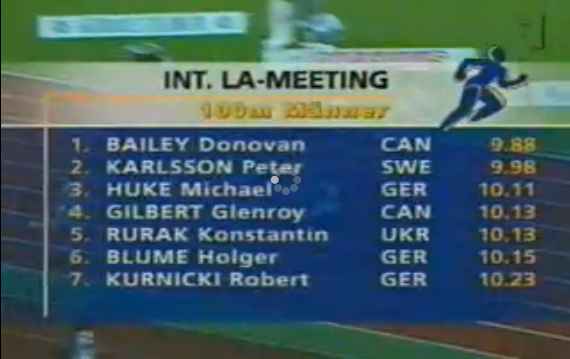 ---
Add Comment
Fill out the form below to add your own comments.
Strict Standards
: Non-static method fileio::read_file() should not be called statically in
/www/htdocs/sgraman/blog/scripts/sb_fileio.php
on line
13
---